Teen shop worker praised for going "above and beyond" for crying autistic girl
28 May 2019, 14:19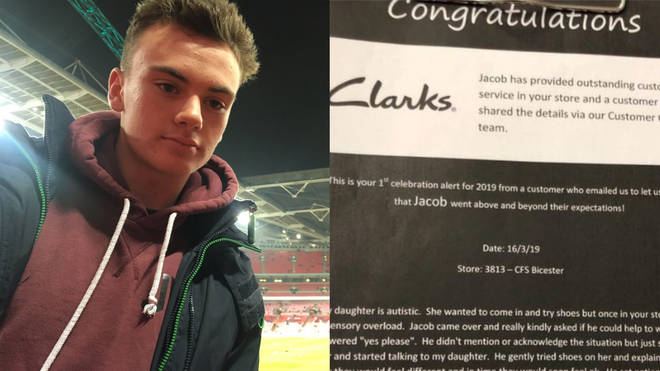 A mother has praised a teenager working at his Saturday job, and her message of thanks has now been seen by thousands of people.
Jacob Tayler patiently helped the woman's daughter, who has autism, during a shift at a Clarks shoe shop.
His father James, from Bicester in Oxfordshire, posted on Twitter that he was "ridiculously" proud of his 18-year-old son.
When Jacob finished his shift, he was given a "celebration alert" from the store.
The alert came after an email from a shopper who said Jacob had gone "above and beyond" their expectations in March, after helping the little girl.
"I might be a little choked up," James tweeted.
I'm ridiculously proud of both of my children, but my 18 year old son was presented with this at his Saturday job yesterday and I might be a little choked up. pic.twitter.com/BpNUY6098b

— james flibble (@JamesFlibble) May 26, 2019
The customer emailed the company, explaining how Jacob had sat patiently while her daughter cried with no fuss, saying: "He didn't once make us feel like we were taking too long or being a nuisance."
Over 90,000 people have "liked" James's sharing of the post, and it has also been picked up on social media site Reddit, getting upvoted more than 52,000 times.
Among the people to see it was Dawn Brown, the customer in question who had emailed Clarks.
"Everyone loves a little bit of kindness," she responded to James. "I am so happy that Jacob got his recognition. Teens today are given bad press, not enough praise."
No thanks required James, but oh my it just goes to show that everyone loves a little bit of kindness. It works all ways if you receive it, then share it. speechless at how this post has taken off. I'll ask Jacob for his autograph when we next buy shoes ☺️

— Dawn Brown (@deeby75) May 26, 2019