Why is it called a club sandwich, anyway?
24 May 2018, 16:23 | Updated: 12 June 2018, 16:28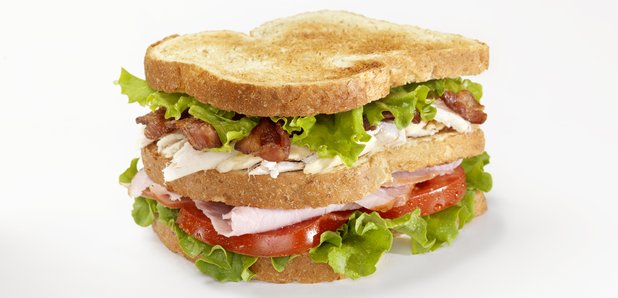 If you watched the recent unscripted episode of Peter Kay's Car Share, you may remember a certain scene involving a club sandwich.
In it, John and Kayleigh argue about why said sandwich has that name, and they try to work out what CLUB could stand for, in the same manner as a BLT stands for bacon, lettuce and tomato.
So, what does it stand for?
Well, nothing!
Earlier this month, a Twitter user named Saul Henderson blew many other people's minds by saying that the club sandwich actually stood for 'chicken and lettuce under bacon':
No way am I 18 and I've only just found out a club sandwich stands for chicken and lettuce under bacon

— Saul J Henderson (@sjhenderson07) May 11, 2018
However, while that may have become the case for some in recent times, that's not actually the reason behind its mysterious name.
The club sandwich's name has always been a reference to various member's clubs, who claim that they're the ones who served it first.
Now for a little history lesson. The Saratoga Club House (now known as the Canfield Casino) in Saratoga Springs, New York, has always claimed that the sandwich was invented in its kitchen in 1894.
The Union Club, in New York City, had already been celebrated for its sandwich five years before its rivals.
"Have you tried a Union Club sandwich yet?" the New York Evening World asked its readers in 1889. "Two toasted slices of Graham bread, with a layer of turkey or chicken and ham between them, served warm."
"A famous institution of the Union Club is what the epicures of the club have proudly christened 'the Union Club sandwich,'" said the Pittsburgh Dispatch, a day after the Evening World's article. "It differs essentially from any other sandwich made in town, and [...] heretofore the composition of this sandwich has been a mystery to the outside world. The club chef toasts well two slices of Graham bread cut thin, and between them places a layer of chicken or turkey and ham, and serves the sandwich warm."
No bacon or lettuce, and chicken isn't essential, so that appears to suggest that the name's origin was nothing to do with an acronym.
A few decades later, and the recipes continued to be fluid. "[The club sandwich] is a meal in itself, and a meal which may have highly diversified component parts, as long as the principal specifications of toast, meat and salad ingredients are adhered to," Florence Cowles wrote in Seven Hundred Sandwiches back in 1929.
Then, in the early 1970s, writer James Beard published essays about sandwiches in his Great American Cookery and in Beard on Food: "In the last thirty years or so [the club] has evolved into a triple decker, but as I remember, it was originally made with just two slices of toast, thinly sliced chicken, tomato, and mayonnaise.
"Order a club sandwich today, and you'll get chicken or turkey, tomato, bacon, mayonnaise, and lettuce or not, as you wish. Provided the toast and bacon are crisp and hot and the other ingredients of the highest quality, this can be a divine mixture of flavors and textures."
So, basically, the club sandwich is technically nothing to do with an acronym.
Having said that, it fits nicely, doesn't it?