Couple discover a 23-year-old message hidden in their bathroom
6 July 2018, 13:32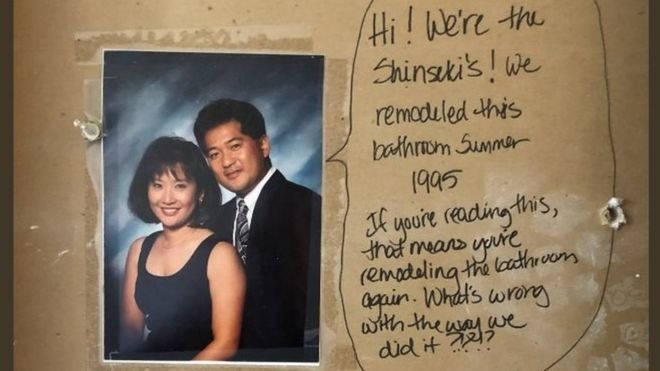 You don't normally get to find out exactly who lived in your house before you, but this couple did.
Alex and Jess Monney, from San Jose in California, had an incredible discovery while refurbishing their bathroom.
Hidden behind the plasterboard was a message from a Mr and Mrs Shinseki (and their pet rabbit Cassie), who had lived in the house in 1995.
The couple wrote: "If you're reading this, that means you're remodelling the bathroom again. What's wrong with the way we did it?"
After sharing the photo on social media, it has been shared by thousands of others. The 23-year-old note has also led to others sharing their own strange objects and messages they have discovered hidden in their homes.
TJ Harris replied with a photograph of a stack of Playboy magazines he and his wife found hidden in their bathroom wall, with the top edition being published back in 2000.
My wife and I bought our first home last summer. Had to cut a hole in the bathroom wall to install a vent. Here's what we found behind behind that wall 😳 pic.twitter.com/AU2Y4OhKEB

— TJ Harris (@TJPOWERuloveit) July 3, 2018
My parents had their house custom built in the late 1970s. Dad routinely stopped by and gave the builders a six pack of beer at the end of the day on Fridays. He found this in the wall when renovating the master bathroom shower in 2013: pic.twitter.com/492jjZHxi5

— Mars Garrett (@marsgarr) July 3, 2018
Phenomenal. I love that.

When I remodeled a room on a house years ago, I left a 6 pack of Guinness and a note in the wall. No idea if anybody has found it yet.

— Matt Singley (@mattsingley) July 3, 2018
Alex Monney added that he and his wife will leave their own note hidden behind the walls of the bathroom, in the hopes that future inhabitants will find it.
"The funny thing is the renovation was supposed to be quick. We're expecting our first baby in four weeks, so we need to get moving on our message pretty soon," he told the BBC.
He also said that he would like to thank the Shinsekis "for the smiles" their note has brought them and others.