Watch this couple's surprise proposal on the Dirty Dancing stage
11 May 2018, 13:38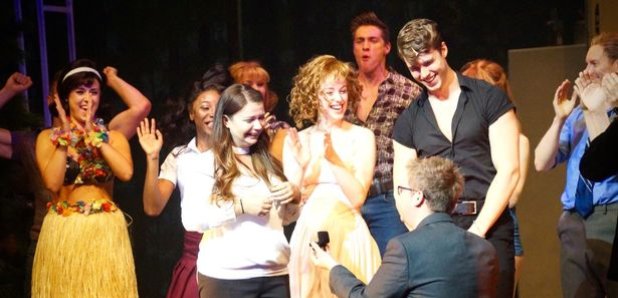 A couple had the time of their lives (sorry) when they got engaged in front of 1,000 people.
David Schofield chronicled his journey to make his proposal to partner Nicole Harris special on YouTube.
He contacted a production company which was looking for people to star in a new TV show, and asked if they would include his proposal.
They then agreed to film him proposing to Nicole on stage at a performance of the Dirty Dancing theatre tour in Sheffield.
Watch the moment below:
The Macclesfield couple are big fans of music and theatre. David works as a concert pianist, while Nicole is a trained dancer, and now a school teacher.
At the curtain call of the musical and the famous song 'Time of My Life', the cast called David and Nicole to the stage, pretending that their seat numbers were winners in a competition.
Lead character Johnny told the crowd: "I believe David's got something to say." And then, David got down on one knee.
Thankfully, Nicole said yes!
David said after: "I was terrified. It was such a big moment.
"There must have been 1,000 people in the theatre and I knew we were being filmed for TV. I got down on one knee, I'd practised thousands of times. I said 'you are my right hand, my compass and my best friend. Will you marry me?'
"She was physically shaking and I was concerned but it was an overwhelming moment, and I was so happy when she nodded her head, said yes and everyone cheered."
Watch the full video below: