A man dressed up as Elsa from Frozen rescues police van in a blizzard
17 March 2018, 09:00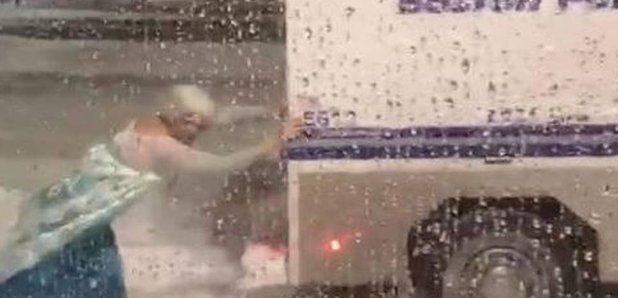 A man dressed up as snow queen Elsa was a true hero earlier this week.
A Boston Police Department van became stuck in deep snow during a blizzard, but thankfully the Frozen character was on hand to save the day.
The fabulous dresser lent a helping hand, and single-handedly pushed the van out of the snow.
Watch the moment below:
The man is 37-year-old Jason Triplett, and soon after his triumph proceeded to walk in the snow, while singing 'Let It Go' like the hero he was.
The clip soon went viral, and has seen be hundreds of millions of people around the world.
"Oh, my gosh, I can't believe this is happening," Triplett later told The Advocate. "I still don't think it's real."
Jason had bought the costume last year, and wore it as a joke for his friends that night.
"I've pushed cars out of the snow a thousand times, so I didn't think anything of it," he added. "I went out to help, but, of course, I'm in this ridiculous outfit. I think it probably helped that it was a cop car. If I had been pushing a regular car, it wouldn't have been as funny."