Man spots himself in the background of his fiancée's childhood photo
11 December 2017, 11:29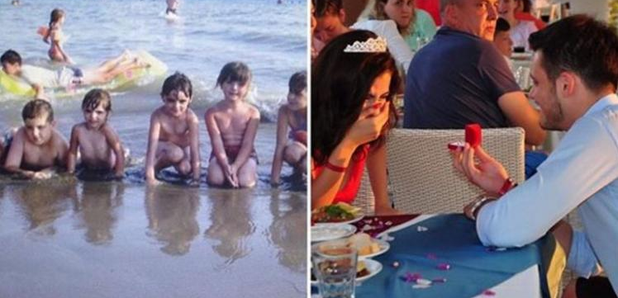 If you're somebody who doesn't believe in fate, then maybe this amazing story will change your mind.
Rewind a decade, and Kosovo-born Verona Koliqi was visiting a beach in Montenegro with her family. 10 years later, she started going through old photographs with her fiancé Mirand, who noticed something interesting.
He saw a young boy floating around on a lilo in the back of the photo, and his mind was blown.
"He noticed the kid in the back had the same shirt, shorts and floaty as him," she explained. "We analysed further and confirmed with family members that it's him photobombing my family photo."
Amazingly, it turns out that Mirand's family were also holidaying in the exact same place at the exact same time.
While the pair never met as kids, they finally crossed paths in Kosovo last summer, and a year later they were engaged.
Alright, we'll have to take their word for it, but if this isn't an example of true love and pure fate, then we don't know what is.