Young carer breaks down after hearing late grandma's voice in a teddy bear
18 January 2018, 11:39
This is the emotional moment when a grieving granddaughter heard her late grandmother's voice coming from a teddy bear gift.
Health care assistant Lauren Doyle, 22, was shocked to hear the heartfelt message from her grandmother, telling her: "Love you, bye".
Best friend Carlita Pounder created the Build-a-Bear present to cheer up Lauren, after she was hospitalised following operation complications, and the sudden death of her 73-year-old grandma Barbara Kinnell, just two days after Christmas.
Lauren was at her home in Hartlepool last week when Carlita filmed the surprise.
"I had no idea what was going on," she said. "Once I saw the box I knew it was from Build-A-Bear as it's so distinctive but other than that I had no idea.
"She told me to look at the certificate which said the bear had been called Babbylicious - the nickname I gave my nana. I knew it wound her up and I told all her friends about it and they started calling her it too.
"Then I saw the bear was dressed all in red - a red dress, red shoes and even red knickers - my nana's favourite colour. It was overwhelming to know someone had done that for me and named a bear after her.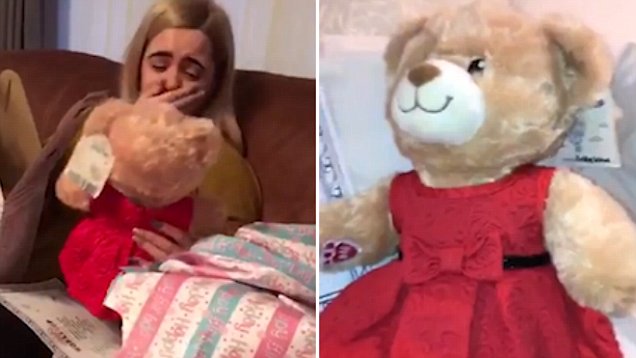 "When she said to press its hand I wondered what the hell she was on about, but as soon as I did I knew straight away it was my nana's voice.
"I was really emotional, I didn't know what to do or say."
The voice message was left by Barbara on December 5, three weeks before she passed away from cardiac arrest brought on my bronchitis and pneumonia.
Lauren sent Carlita the recording over text, after discovering it on her phone soon after Barbara's death.
The grandmother's voicemail said: "Hiya Lauren it's only Nana. Just calling to see if you're ok pet. I'll give you a ring later on. Ta-ra love. Love you, bye."
"Hearing her say "love you" was totally mad,' Lauren added. "It's like that voicemail was made to go somewhere.
"My whole family said that everything I would want to hear she says in that little recording, it's just crazy. It was emotional hearing it on my phone after she passed away - it was better hearing her voice coming from the bear rather than the phone.
"It felt more comforting, I was happy crying listening to it. I hadn't had time to acknowledge my nana dying, I hadn't started to grieve, and that just pushed me over the edge.
"The rest of the night, every time we watched it I started crying. My mam had to stop watching it - it had us all in tears."