M&S discontinue 'cauliflower steak' after shoppers mocked it
11 January 2018, 11:33 | Updated: 15 January 2018, 15:43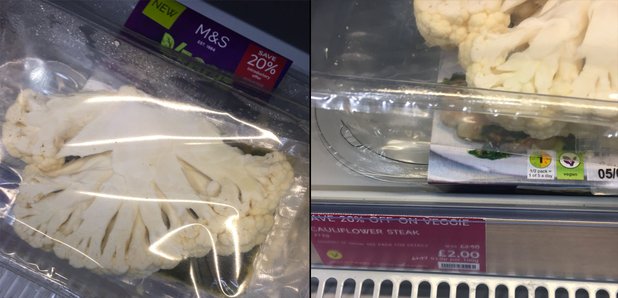 Would you have bought it?
Let's face it - would you spend £2 on two slices of cauliflower with a lemon and herb drizzle, when you could buy a whole cauliflower for less than £1?
Yep, us neither!
Marks and Spencer's veggie 'steak', which was part of the new M&S Veggie range, has been mocked by customers to the extent that the store has decided to discontinue the product. As well as the high cost, customers also raised concerns about the excess packaging.
Marks and Spencer stores are selling sliced cauliflower as 'Cauliflower Steak' with lots of lovely plastic and charging £2 (normally £2.50). A cauliflower costs about 69p from a local veg shop. pic.twitter.com/v9ocsIAB0R

— Rachel Clarke (@rachclarke27) January 5, 2018
An M&S spokeswoman said: "We work hard to create quick and convenient meals for customers; however on this occasion we didn't get it right."
"Once we've sold the stock that is currently in stores, we won't be ordering any more of this product."
Supermarket competitor Sainsbury's also stocks a similar product, however they have escaped the majority of the criticism.
What do you think - do shoppers nowadays have more money than sense?