These are the UK's most popular baby names of 2017
7 December 2017, 11:49 | Updated: 15 January 2018, 15:51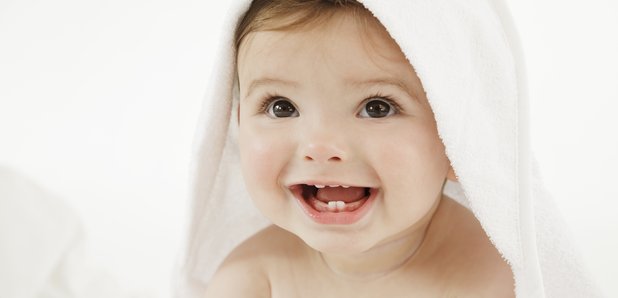 The annual list of the most popular baby names is always a fascinating read, and if you're a soon-to-be parent, this could help you out a bit.
BabyCentre has revealed the top 100 UK baby names of the year, so you can either use this list as inspiration, or to simply peruse through some of the more 'unique' choices.
Research has shown how gender neutral names are more popular than ever before, with names such as Forest, Hawk, Fox, and Storm rising up the rankings.
Editor Lorna Marsh said of the findings: "The appeal of delicate flower names is wilting in the face of more extreme forces of nature. Perhaps this return to the wild is rooted in millennial parents' desire to reconnect with the great outdoors. It's certainly a growing trend to watch in 2018.
While the top 10 girls names are generally traditional, the likes of Evelyn, Willow, Thea, Nur, Lyla and Summer have grown in popularity. Meanwhile, Madison, Fatima, Amy, Aurora, Arabella, Hallie and Skye have pushed out Mya, Katie, Iris, Eden, Brooke, Nina and Bethany from the 100.
For the boys, the top five saw little changes, with Henry, Thomas and Max dropping in popularity. John, Louie and Theodore were the highest climbers, while Ahmad, Syed, Hunter, Harley, Abdul, Roman, Parker, Levi and Joel replacing Connor, Alex, Sam, Callum, Dexter, Omar, Ben, Cameron and Seth.
The top 100 girls names of 2017:
Olivia
Sophia
Amelia
Lily
Emily
Ava
Isla
Isabella
Mia
Isabelle
Ella
Poppy
Freya
Grace
Sophie
Evie
Charlotte
Aria
Evelyn
Phoebe
Chloe
Daisy
Alice
Ivy
Darcy
Sienna
Harper
Hannah
Ruby
Scarlett
Maya
Jessica
Layla
Matilda
Willow
Eva
Emma
Erin
Florence
Molly
Rosie
Millie
Amelia
Mila
Esme
Elsie
Maisie
Ellie
Lucy
Thea
Zoe
Nur
Imogen
Luna
Lola
Zara
Maryam
Bella
Holly
Annabelle
Eleanor
Eliza
Amber
Abigail
Lyla
Penelope
Niamh
Madison
Violet
Fatima
Georgia
Sarah
Elizabeth
Amelia
Jasmine
Harriet
Rose
Lexi
Nancy
Anna
Amy
Leah
Summer
Lottie
Ayla
Orla
Clara
Robyn
Gracie
Heidi
Lara
Maria
Felicity
Sara
Aurora
Meghan
Martha
Arabella
Hallie
Skye
The top 100 boys' names of 2017:
Muhammad
Oliver
Harry
Jack
George
Noah
Leo
Jacob
Oscar
Charlie
Jackson
William
Joshua
Ethan
James
Freddie
Alfie
Logan
Lucas
Finley
Aiden
Henry
Archie
Thomas
Isaac
Theo
Mason
Arthur
Jayden
Elijah
Max
Alexander
Dylan
Edward
Reuben
Louie
Samuel
Harrison
Joseph
Teddy
Daniel
Aaron
Sebastian
Adam
Riley
Liam
Zachary
Luca
Elliot
Benjamin
Caleb
Nathan
Ahmad
Jude
Theodore
John
Hugo
David
Harvey
Carter
Jenson
Syed
Arlo
Ollie
Jake
Matthew
Ellis
Hunter
Ryan
Luke
Harley
Ezra
Rory
Lewis
Tyler
Albie
Finn
Jesse
Toby
Michael
Abdul
Albert
Eli
Ali
Bobby
Austin
Blake
Stanley
Reggie
Roman
Kai
Gabriel
Frankie
Parker
Ronnie
Levi
Tommy
Evan
Jamie
Joel