Couple get married at Pizza Express after deciding to tie the knot that day - video
14 February 2019, 15:01 | Updated: 14 February 2019, 15:07
Who doesn't want a pizza at a wedding?
A couple put on a wedding ceremony just minutes after deciding to get married while at a Pizza Express restaurant.
Maddie Jones, 29 and Alex Sung, 30, were nominated for the shotgun wedding by a friend, who spotted the pizza chain's Facebook offer to create a spontaneous ceremony.
The sudden nuptials began when Maddie and Alex, who had been engaged for a year, arrived at the venue in London.
After revealing a friend of theirs had told staff about their long engagement, waitress Milly Threw said: "I have had a crazy idea, why don't you get married today?".
When Milly revealed that the couple's friends and family were already making their way to the restaurant, Maddie and Alex agreed to tie the knot then and there.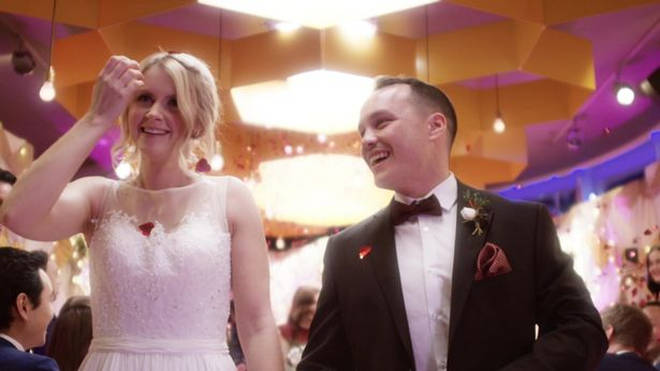 Soon, the restaurant was converted into a room with 30 seats for guests, while Maddie chose one of 16 dresses, and had her hair and make-up done, while Alex had a quick shave and trim.
Bride Maddie Jones said: "It was an amazing day, of course a bit of a shock initially but the whole thing was lovely. We love pizza, so the wedding food was perfect, and the giant Dough Ball Heart shaped wedding cake was an absolute showstopper.
"I can't say a big enough thank you to Natasha for her secret planning and of course to PizzaExpress for bringing everyone together to make this happen."
Maddie and Alex met on Tinder in 2016, leading to a proposal from Alex at the top of the Rockefeller Centre in New York a year later.
"I dough", indeed.