A police car chase interrupts wedding photos, with hilarious results
8 February 2018, 17:10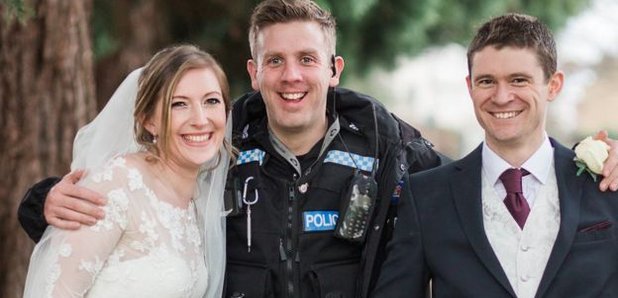 A newlywed couple had a wedding they'll never forget after their photos were interrupted by a police chase.
Toby and Becky Eyre were posing for photos at Oxford's Hinksey Park on Saturday (February 3), when police arrived on the scene.
"At first we just saw a man running and heard police shouting 'stop'... We tried to get out of the way as much as possible," Mr Eyre said.
Police officers made two arrests before coming back for photos, which were then shared on Thames Valley Police's Twitter feed.
Last Saturday in @TVP_Oxford

Man arrested in connection with intent to supply drugs following a chase in a park

Wedding pics photobombed

After our officers arrested two men last Sat, they also made time to pose for a few pics with a newly-wed couple who were nearby pic.twitter.com/VYo2q11NzM

— Thames Valley Police (@ThamesVP) February 7, 2018
Mrs Eyre said they chose the park as they wanted a quiet place to celebrate their wedding away from the reception. Whoops.
They explained how they saw a man running around the lake and past them before jumping in the water. Police later confirmed that two men were held on suspicion of possession with intent to supply class A drugs.
The bride added that the officers were "focused on the job in hand" but later saw "light of the situation" and came back to apologise and joined them for a "free photo shoot".
The couple are now abroad celebrating their honeymoon in Mauritius.