Ronnie O'Sullivan deals with a 'table intruder' in the most amazing way possible
20 October 2017, 14:36 | Updated: 2 November 2017, 15:29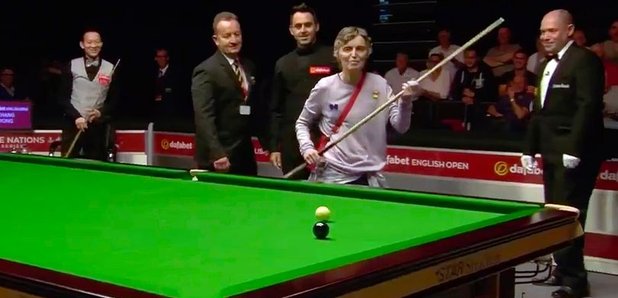 Back in the day, sport would often be interrupted by some kind of pitch invader, usually not wearing any clothes.
But usually, such intruders have some kind of gameplan. However, snooker legend Ronnie O'Sullivan was greeted with a random fan mid-break, who had no idea what she wanted to do once she got there.
Thankfully, it was at the very of the frame, and Ronnie calmly finished potting the pink, before amazingly handing his cue to the fan to pot the final black.
But... she missed. D'oh! Surely that's a seven-point penalty for Ronnie?
ICYMI... @ronnieo147 found his mixed doubles partner at the #EnglishOpen yesterday pic.twitter.com/w4LjkNA5kD

— Eurosport UK (@Eurosport_UK) October 20, 2017
The strange incident occurred when The Rocket was playing China's Zhang Yong at the English Open at Barnsley's Metrodome, when referee Colin Humphries was stunned to see the woman appear out of nowhere.
She then started running around the table, saying "I'm running, I'm running!". What were the security guys doing??
Ronnie later said: "I didn't know what to do at first, and she just said 'I'm having a jog, I'm having a jog'.
"So I was like 'Carry on then – and you might as well have a shot as well while you're at it'. So she got down, and I thought she was going to pot it. I really wanted her to!"
A statement from the tournament later read: "We are investigating the incident that took place at the end of the match between Ronnie O'Sullivan and Zhang Yong. And we will be reviewing our procedures going forward."