This cheeky stray cat interrupts a live concert, and the audience and musicians love it
18 February 2020, 10:31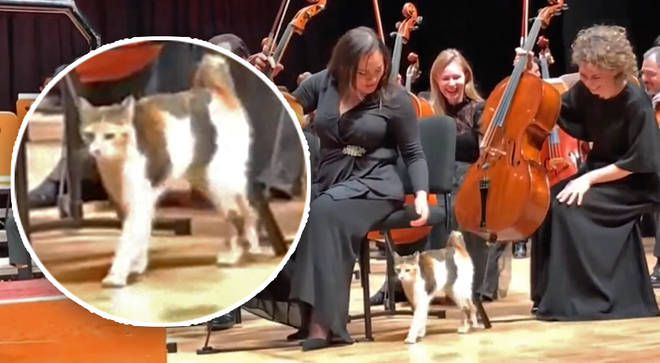 One orchestra had to pause their performance when a stray cat decided to steal the spotlight...
We've all been at a concert when one person has forgotten to put their phone on silent, and the shrieking sound of an incoming call pierces through the performance.
But, have you ever been to a show where the spotlight is completely stolen by a stray cat?
For one orchestra in Istanbul exactly that happened, as a stray feline made its way onto the stage, clearly oblivious to the performance which was underway.
Watch the hilarious video below.
As the musicians waited to start the concert, instruments poised and ready – the furry intruder decided now was the perfect moment for some attention (typical cat move).
First, it seemed the cellists were the best candidates for the job – but shortly after, the cat decided to head to the violinists to test their stroking abilities.
One musician even tries to remove the audacious animal from the stage, but it effortlessly escapes as it continues its pursuit for petting.
Throughout this entire interruption, the audience are in fits of laughter and amusement.
It all seems to be simmering down when the cat makes one final bid for the spotlight – by jumping on the podium to join the conductor.
After the laughter dies down – and the stray feline's desires have clearly been met – the cat settles into the prime seat for an intimate experience of the performance, sitting just beside the musicians' feet…