Mind the step! Watch presenter fall into a swimming pool on live TV
11 April 2018, 10:27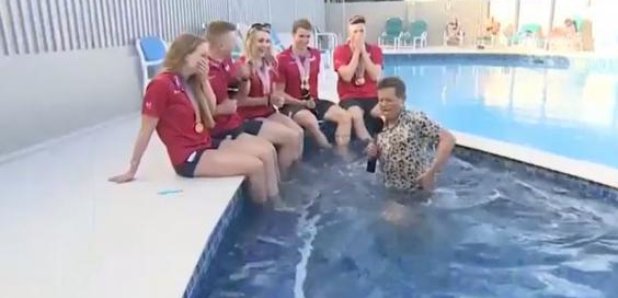 This is why you should always look where you're going. Especially if a swimming pool is involved. And you're on live TV.
BBC presenter Mike Bushell suffered an embarrassing but VERY funny live TV accident, after falling into a swimming during an interview.
He was broadcasting live from Australia's Gold Coast to speak to UK swimmers competing at the Commonwealth Games.
However, he suddenly found himself floundering in the pool beside them when he didn't realise there was a step:
We love how quickly the swimmers don't rush to help him, while laughing away (not that we can blame them).
Mike handled it like a pro though, and even managed to not get the microphone wet!
Speaking as swimmers Sarah Vasey, Adam Peaty and Ben Proud giggled away, he said: "I didn't see the step! Sorry about that.
"Well that's given you all a good laugh. Just look before you get in a swimming pool in future. All the people watching here are literally on the floor."
We'll be seeing this one in all blooper reels to come.