Watch the heroic moment a TV reporter tackles a racehorse live on air
23 May 2018, 11:58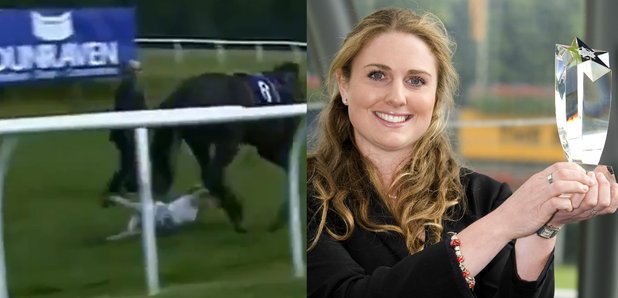 A reporter put her own life ahead of others by helping stop a galloping racehorse, and it all occurred live on TV.
At The Races presenter Hayley Moore performed a heroic move to capture a loose horse at Chepstow.
After one furlong of the Bet And Watch At 188bet.co.uk Handicap, the horse named Give Em A Clump unseated his rider Fran Berry.
Moore, who is the daughter of trainer Gary and brother to Ryan, was working as the on-course reporter for the Sky show, when she saw the horse heading for another lap without its rider.
While other understandably jumped out of the way, Moore decided to take the horse down before it or anyone else was hurt.
Watch the moment below:
Moore managed to grab the horse, which sent her hurtling to the ground, but she somehow held on.
She then simply dusted herself off and removed the horse's saddle.
"They'll have to put the divot back in, but luckily it's on the jumps track so they'll have time to get the truck on the track!" Moore said afterwards.
Superhero!
Keith Ottesen, clerk of the course said: "I thought it was a hell of a tackle! She was brave - too brave, really - but luckily she was fine.
"It was one of the best tackles I've seen in Wales. We wouldn't normally advocate that sort of thing, but we all know where Hayley comes from."