Watch groom surprise bride with wedding sing-along to 'God Only Knows' - video
6 August 2018, 16:11
This is definitely one way to make your wedding speech memorable...
This groom has given his new bride the ultimate wedding gift by leading a sing-along of a classic hit song by The Beach Boys at their reception.
Casey Bartolucci can be seen making what at first appears to be a typical wedding speech but ends in him leading his family and friends in belting out the serious tearjerker 'God Only Knows'.
The clearly smitten new husband explains that he made a promise to his then girlfriend, Bridie, about learning the song and wanted to come through for her on their special day.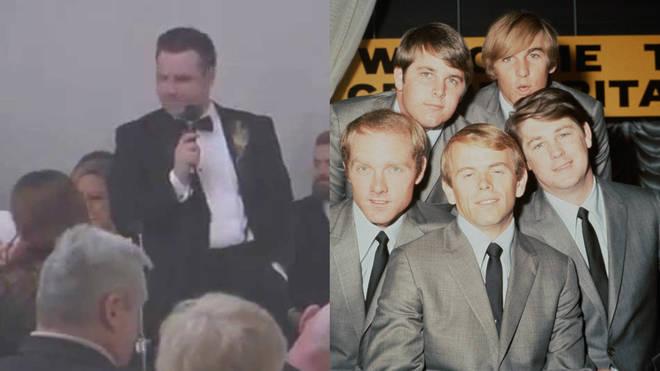 "When I first met Bridie I told her that when I met the woman I was going to marry that I was going to learn 'God Only Knows' by The Beach Boys," Casey explains.
"That I was going to learn how to sing it and learn how to play it on guitar. I am not a guitarist and I'm not a singer," he says while laughing.
The groom explains that when he first said it to her, it was off the top of his head referring to it as a little 'pillow talk' but it's clear by the video, Casey is not one to break a promise.
In the heartfelt speech Casey tells the reception to take out their hymn notes and asks the crowd of their loved ones to join in the sing-along which will be played on guitar by his brother-in-law.
What's even sweeter is that the groom kept it a secret by getting his six-year-old cousin to sneak around and pass out the lyrics to all of their 100 guests at the reception in Beaumont, Texas without Bridie's knowledge.
In the seriously heartwarming clip the whole reception can be seen singing along to what may be the perfect wedding song, it's guaranteed to leave a smile on your face.