Robbie Williams Could Be Re-Joining Take That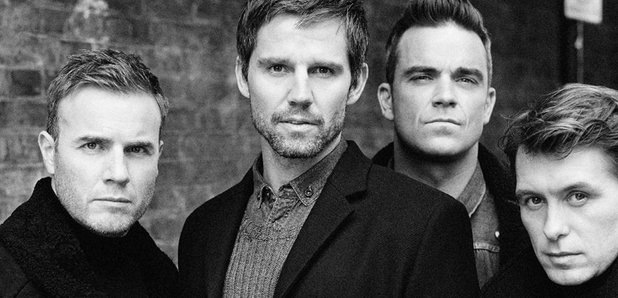 The remaining members of the band have revealed they are speaking to Williams about getting back together for their 25th anniversary.
Robbie Williams caused a pop-music earthquake in 1995 when he left the boyband, Take That. The rest of the group split a year later but later reformed, and in 2010 Robbie also briefly re-joined them for the 'Progress' album and tour.
Now it has been revealed that the remaining members of the group have been talking to Williams about getting back together to mark their 25th anniversary of their first top ten hit, 'It Only Takes a Minute' that came out in 1992.
"We've been talking to Robbie about it," Howard Donald told the Sun "It might be that if we do a 25th anniversary album, that we do some co-writing or some extra tracks on that."
It seems the band have every intention of pulling out all the stops for this anniversary. According to Mark Owen; "at the moment there's an intention to do some new tracks, a greatest hits [album] and a tour."
The band currently consists of Owen, Donald and Gary Barlow. And while it seems Robbie re-joining could be on the cards it seems unlikely that the fifth member, Jason Orange, who left in 2014, will be doing the same.
"I think Jay is happy where he is," Owen said "I don't think at the moment he has any sort of dreams or wishes to come back and do it, so we're just carrying on doing our thing."
The band have also announced they are preparing a reality television show based around finding cast members for a Take That musical called 'Let It Shine.'