Robbie Williams Responds Hilariously To Hand Sanitiser Controversy
3 January 2017, 15:12 | Updated: 2 November 2017, 15:29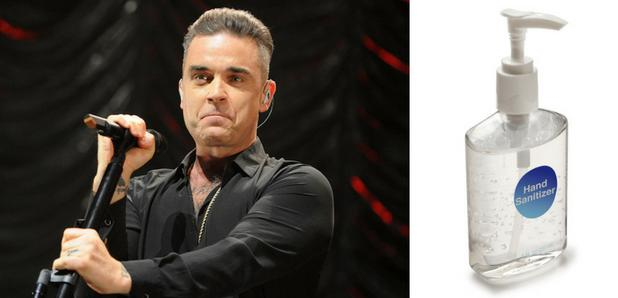 The singer has posted a video poking fun at the criticism he's received over his use of the hand gel.
Robbie Williams has responded to the criticism he received over using hand sanitiser on TV by poking fun at himself in a video posted to his Instagram.
Viewers were shocked on New Year's Eve when they saw the singer grimacing on stage while applying the anti-bacterial gel to his hands after holding hands with audience members.
It's an awkward moment to say the least...
Robbie Williams there anti bac gelling after an encounter with the general public. Highlight of 2017 pic.twitter.com/tntzslvULO

— Paul Edwardson (@PauloMenace) January 1, 2017
In the response posted by his wife Ayda, the singer is seen at home wishing fans a happy new year before someone stops to shake his hand, and again he applies copious amounts of the hand gel.

Well Robbie, if you can't beat 'em, join 'em!