Stars Pay Tribute To George Martin
9 March 2016, 09:44 | Updated: 2 November 2017, 15:29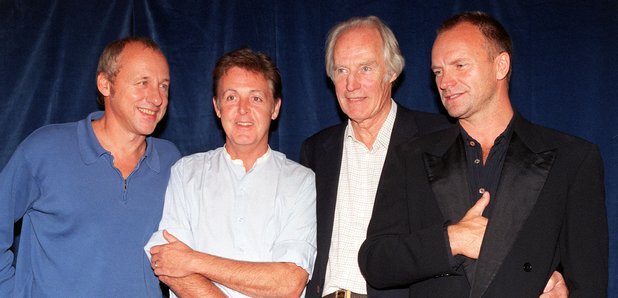 Musicians, actors and other legendary producers have lead the tributes to The Beatles' producer who passed away today at the age of 90.
The tributes for a man who helped to shape The Bealtes, and by extension rock and pop music for the 60s and beyond, have flooded in today.
The Beatles' drummer, Ringo Starr, broke the news on Twitter this morning:
Thank you for all your love and kindness George peace and love x pic.twitter.com/um2hRFB7qF

— #RingoStarr (@ringostarrmusic) March 9, 2016
George's Son, Giles, who worked with his dad on later Beatles projects like 'Love', added his moving tribute:
RIP dad. I love you. I'm so proud to have been your son. I'll miss you more than words can say. Thank you for the all times we had together.

— Giles Martin (@mashupmartin) March 9, 2016
Sir Paul McCartney also wrote a heartfelt message to his old friend:
"I'm so sad to hear the news of the passing of dear George Martin. I have so many wonderful memories of this great man that will be with me forever.
"He was a true gentleman and like a second father to me. He guided the career of The Beatles with such skill and good humour that he became a true friend to me and my family."
Fellow producer, Quincy Jones, added his thoughts, drawing on the pair's long friendship:
RIP to my musical brother George Martin. We were friends since 1964, & I am so thankful 4 that gift. Bless u & your precious posse 4ever.Q

— Quincy Jones (@QuincyDJones) March 9, 2016
George Martin also worked on music for the James Bond films, including the themes for 'Goldfinger' and 'Live and Let Die'. Roger Moore thanked him for his contribution to them.
How very sad to wake to the news Sir George Martin has left us. He made my first Bond film sound brilliant!

— Sir Roger Moore (@sirrogermoore) March 9, 2016
Sir Elton John, who famously worked with Martin on the 1997 version of 'Candle in the Wind' left a touching message for the great man on Instagram, saying: "So sad to hear about Sir George. It is the end of a wonderful era. I had the privilege to have known him as a friend and work with him as an artist. He was a delightful, brilliant man. We won't see his like again.
"My deepest condolences to the wonderful Judy and his family."
Sean Lennon, the son of John and Yoko, paid tribute saying: "R.I.P. George Martin. I'm so gutted I don't have many words. Thinking of Judy and Giles and family. Love Always, Sean"
Modern musicians also acknowledged their debt to the pioneering producer. Gary Barlow said "We're all still copying his work."
American rocker Lenny Kravitz added his tribute to a true "visionary".
The legends are really going home! Visionary producer of #TheBeatles, George Martin (1926-2016). pic.twitter.com/X8sVf9iNQ7

— Lenny Kravitz (@LennyKravitz) March 9, 2016