The Top 10 Guilty Pleasure Songs
15 September 2014, 09:58 | Updated: 2 November 2017, 15:29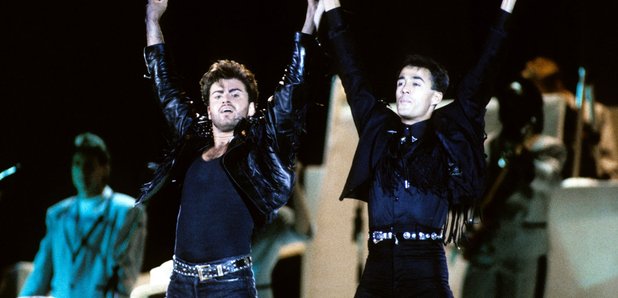 Spotify analysed playlists named 'Guilty Pleasures' - check out the top ten now.
These are the top 10 most streamed tracks on Spotify that feature in people's 'Guilty Pleasures' playlists!
Are these on yours?
The Top 10:
1. Mambo No. 5 - Lou Bega
Lou Bega's cover was a hit in the UK in 1999 and topped almost every chart in continental Europe, including Bega's home country, Germany, and set a record by staying at No.1 in France for 20 weeks!
2. Wake Me Up Before You Go Go -
Wham!
First released as a single in 1984, this became Wham's first American and UK No.1hit. Written and produced by George Michael, the song originally entered the UK Singles Chart at No.4 and climbed to the top spot seven days later, staying there for two weeks.
Released in 1979, this song was taken from The Knack's album 'Get the Knack'. It reached No.1 on the Billboard Hot 100 singles chart where it remained for six weeks, and was No.1 on its 1979 Top Pop Singles year-end chart.
4. Don't Stop Believin' - Journey
This power ballad song was originally released as a single from Journey's 1981 album 'Escape', which became a No.9 hit on the Billboard Hot 100 on its original release. In the UK, the song was not a Top 40 hit on its original release; however, it did reach No.6 on a 2009 re-release, having gained increased popularity through its use on a number of television shows.
5. Cotton Eye Joe - Rednex
The Rednex version of the song was very successful in Europe and it peaked at No.1 on the UK Singles Chart. In the US, it peaked at No.25 in March 1995.
6. You Spin Me Round (Like a Record) - Dead Or Alive
The song was the first UK No.1 hit by the Stock, Aitken & Waterman production trio. Released in November 1984, the record reached No.1 in March 1985, taking 17 weeks to get there. On the US Billboard Hot 100, it peaked at No.11 in September of that year.
7. Who Let The Dogs Out - Baha Men
The song reached No.2 on the UK Singles Chart in the United Kingdom. It was the 4th biggest-selling single of 2000 in the UK, and went on to become one of the highest-selling singles of the decade not to reach number-one. The song went on to win the Grammy for Best Dance Recording at the 2001 Grammy Awards.
8. Never Gonna Give You Up - Rick Astley
'Never Gonna Give You Up' is a 1987 song written and produced by Stock, Aitken & Waterman. The song was released as the first single from Astley's multi-million selling debut album, 'Whenever You Need Somebody'. It was a worldwide No.1 hit and topped the charts in the UK for five weeks. The song won Best British Single at the 1988 Brit Awards.
9. U Can't Touch This - MC Hammer
'U Can't Touch This' is a hit single written, produced and performed by MC Hammer from his 1990 album, 'Please Hammer, Don't Hurt 'Em'. The song became Hammer's signature song and is perhaps one of his most recognisable records.
10. Call Me Maybe - Carly Rae Jepsen
'Call Me Maybe' was nominated for two Grammy Awards, for Song of the Year and Best Pop Solo Performance at the 55th Annual ceremony. The song was the best-selling single worldwide in 2012, selling over 10 million copies in that year alone. The song is also one of the best-selling singles of all time.
Spotify also analysed the difference between men's and women's 'Guilty Pleasure' playlists to chart the difference. For women One Direction's 'What Makes You Beautiful' took the top spot (shame on them), with Spice Girls and Backstreet Boys also featuring in the top five (that's better).
Men put Carly Rae Jepsen's 'Call Me Maybe' at the top of their list, with Spice Girls and Backstreet Boys also featuring in their top five.
As fun as this list is to read, here at Smooth, we don't believe in 'guilty pleasures' - just great music that we enjoy listening to!