Watch Out Riverdance! Irish Dancers WOW On TV With 'Smooth Criminal'
12 September 2016, 10:23 | Updated: 2 November 2017, 15:29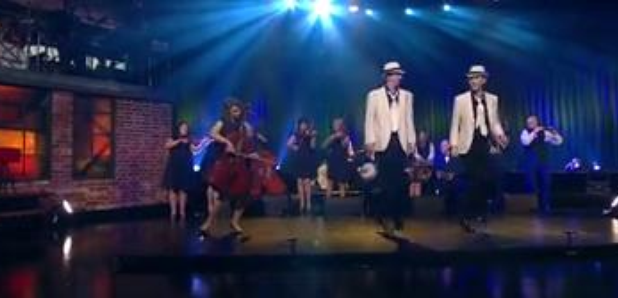 You have to see it, to understand just how great it really is.
It's Michael Jackson like you've never heard before.
Irish trad band, the Kilfenora Céilí Band, appeared on Irish TV on Friday night and performed their version of 'Smooth Criminal' with fiddles, banjos, tin whistles and other traditional Irish instruments we're not quite sure of the names for.
Not only that, but they were also joined by World Champion Irish dancing duo, The Gardiner Brothers, dressed in black and white with those famous MJ trilby hats.
The whole thing worked surprisingly well and got us thinking it could be a new Riverdance in the making...
Irish viewers were enamoured by the performance...
Two lads tap dancing to a ceili version of Smooth Criminal. Where would you get it? #LateLateShow pic.twitter.com/RRKqV8r1l6

— Niall Power (@niallpow) 9 September 2016
My god watching the #kilfenoraceiliband on the #LateLateShow playing and Irish dancing to Michael Jackson is actually incredible

— Shellers Ní M (@shellsbells_XD) 9 September 2016
Paddy's Day 2017 can't come quick enough...