Adele Downs Full Cup Of Tea And RAPS in Carpool Karaoke
14 January 2016, 07:45 | Updated: 2 November 2017, 15:29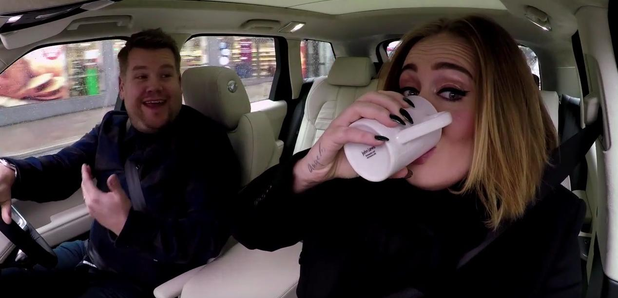 The star takes a trip around rainy London singing her hits and big some SURPRISES!
Updated 14th January 2016
Adele is the latest star to join James Corden in the passenger seat for his now famous 'Carpool Karaoke'.
And it's everything we hoped for.
The singer and TV host belt out her hits 'Someone Like You', 'Rolling in the Deep', 'All I Ask' and EVEN throw in some Spice Girls.
It's not all singing however, and Corden manages to ask some pretty serious questions about Adele's career.
"Does it worry that you won't be able to write the hits?" Corden asks.
"I was worried about that for sure, I feel like it's gone well," replies Adele.
It certainly has gone well for the singer whose album 'Hello' has smashed all sorts of records.
Adele confirms however that this album will be the last one called after her age.
"This is the last album after my age, I believe in trilogies. The next one will be 'Adele'."
We don't mind what the next one is called as long as the music keeps coming!
Watch the hilarious 'Carpool Karaoke' session with Adele:
___________________________________________________________________________________________
In a short teaser clip released by 'The Late Late Show With James Corden', we see the British singer and the TV host belting out her hits 'Hello' and 'Rolling In The Deep'.
The journey takes place in what looks like rainy London and follows on from karaoke sessions with stars like Stevie Wonder, One Direction and Mariah Carey in 2015.
As with any car journey, the talk turns to trivial things such as hairstyles and Adele asks Corden, "I can't work out if I should wear a wig wig or a weave?"
"I mean what I like is that you're coming to me for this advice," a baffled Corden replies.
The full video will be shown on Corden's Wednesday night show in the States, so we can expect to see the full video after it airs!
Watch the sneak preview from James Corden's 'Carpool Karaoke' with Adele: