Diana Ross' Daughter Battles Nerves To Perform With Her Mother
30 November 2015, 10:34 | Updated: 24 June 2018, 01:23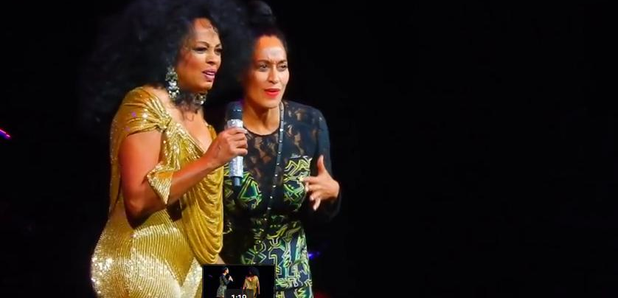 Watch the moment Diana Ross brings her daughter on stage for an impromptu performance.
Very often mothers have more confidence in their children's abilities than the children have themselves - and Diana Ross is no exception.

The Supremes singer invited her daughter Tracee Ellis Ross on stage for an impromptu performance at her Vegas show over the weekend.
Tracee seemed genuinely caught off guard and battled with her nerves to perform a few lines of 'Lady Sings The Blues' by Billie Holiday.
First Tracee asked for the lights to be turned up so she could see the audience but then she decided to turn her back to deal with her stage fright.
"She can sing but she won't sing!" exclaimed Diana who told the audience a sweet story of how Tracee was more enthusiastic about coming on stage when she was younger.
Tracee took to her Facebook page afterwards to talk about the nerves she felt singing alongside "the icon" Diana Ross.
"There is no way to describe the pressure, the fear of what it feels like to allow my voice to be heard as Diana Ross' child."
We think Tracee had a lovely voice, but you can make up your own mind!