NE1 Blackett Street Family Fun Weekends supported by Tyne & Wear Metro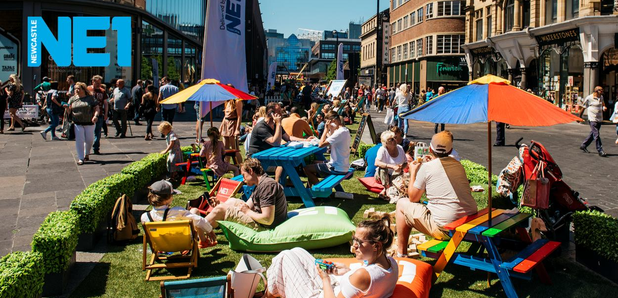 BLACKETT STREET TRANSFORMED FOR FAMILY FUN WEEKENDS THROUGHOUT THE SUMMER BY NE1 supported by Tyne & Wear Metro' please?
Blackett Street in Newcastle will be unrecognisable over various weekends this summer – 6 of these weekends will see the street transformed by NE1 from a busy bus route into a pedestrian only, family park and playground, equipped with artificial grass, seating, fairground rides and large outdoor games.
NE1 Ltd have devised the Blackett Street programme as part of its on-going commitment to greening the city and delivering a family focused summer events programme, especially during the school holidays. Blackett Street was an obvious target for the summer time activity during the Great Exhibition of the North as it is central to Newcastle's bustling retail and leisure district and for 10 weekends will be closed to vehicles, to create a fun environment in the heart of the city centre for family days out.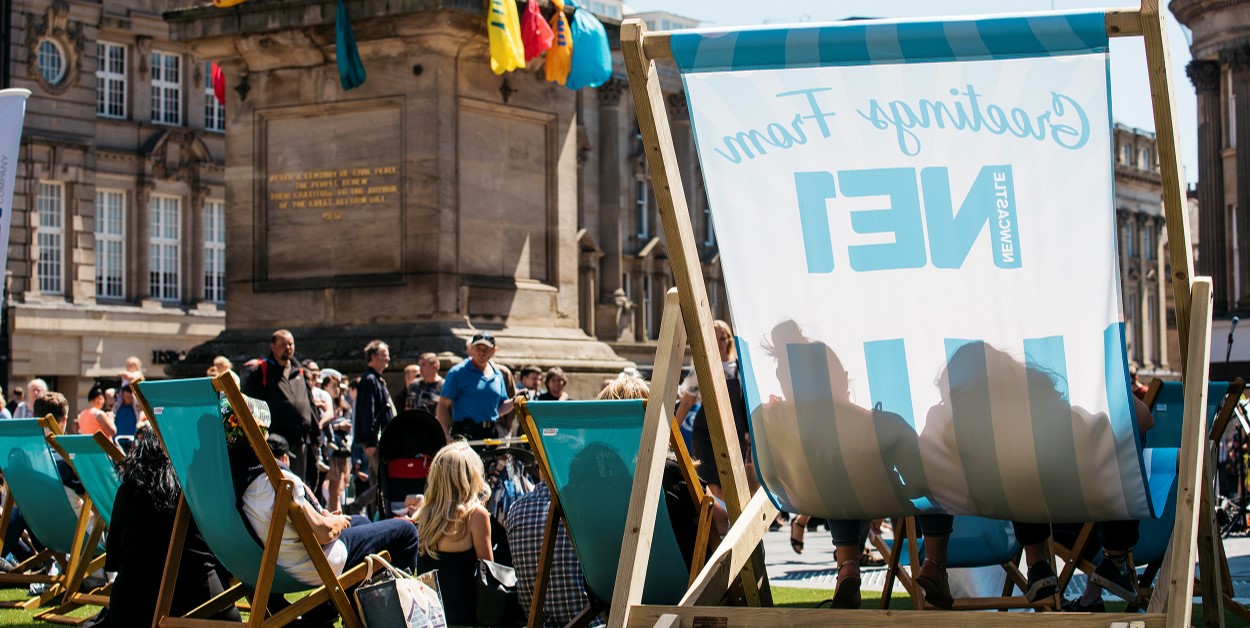 To create a park-like feel, artificial grass will be laid over 1000sqm of road from Old Eldon Square to Pilgrim Street for the duration of the weekends. Accompanying the artificial grass will be 9 trees running along the north side of Blackett Street creating an avenue of trees from Old Eldon Square to Northumberland Street.
A range of quirky outdoor seating will be placed along the length of the astro-turfed strip including large bean bags, mini deck chairs for children and an artificial grass sofa. The aim is to create distinct zones for adults and children to enjoy
Fairground rides will be installed to the West of Blackett Street, adjacent to Old Eldon Square, including rides to cater for children and adults. There will also be large games for everyone to play free of charge including giant Jenga, Connect 4 and other popular activities.
Family Fun weekends will take part on the dates below, with other NE1 events such including the Newcastle Motor Show planned for other weekends.
30 Jun & 1 Jul
7 Jul & 8 Jul
14 Jul & 15 Jul
11 Aug & 12 Aug
18 & 19 Aug
1 Sept & 2 Sept
Tyne & Wear Metro
Tyne and Wear Metro have teamed up with lots of lovely attractions over the summer to bring customers a range of money saving offers, to help you make the most of your Metro ticket.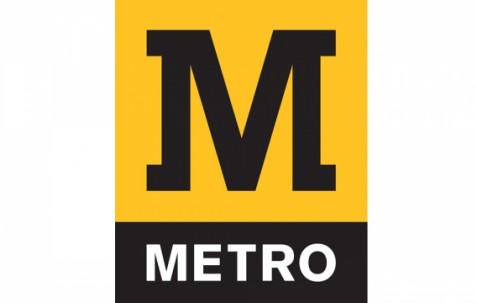 Which Metro station is best to use?
Monument Metro station is right in the heart of the Blackett Street events.
What's the best Metro ticket to purchase?
Pop Pay As You Go is the perfect way to explore the region this summer while savings on your travel costs. Using a Pop PAYG card is 30p cheaper than buying Single Tickets and daily cap fares are 40p cheaper than Day Tickets. Plus to celebrate the Great Exhibition of the North we've launched a limited edition card, available to order online. The cards are free but must be ordered with a £10 balance.
Alternatively you can buy a Day Ticket from a Metro station ticket machine for just £3.00-£5.10 depending on which station you board, or £1.30 Day Ticket for children aged 16 and under. You can use the same ticket all day.
Find out more about Metro tickets using the ticket finder.
How do I keep in touch with all the latest Metro travel updates?
All the live Metro updates are available on our Twitter page: @My_Metro and our official Tyne and Wear Metro app. To plan your journey you can use the Live Travel Map.
Can we Park and Ride with Metro?
There are big car parks at Callerton Parkway, Kingston Park, Four Lane Ends, Northumberland Park and Heworth. Car Parking starts from only £1 a day, and will stay open until after the last train has run. It's a lot easier than driving into the city centre and finding somewhere to park.