Collabro release their 3rd album, Home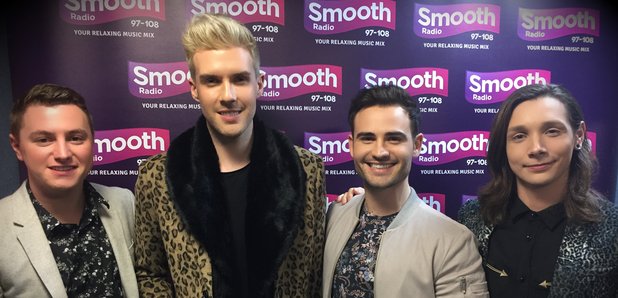 Collabro popped into the studio to tell us about their latest album, Home
The world's most successful musical theatre group, Collabro, popped in to the Smooth Radio office to have a cup of tea and tell us all about their highlighly anticipated third album, Home.
The new release marks their debut as a quartet - exactly 1000 days after they won Britain's Got Talent - Jamie, Matt, Michael and Tom feel this album "is a reflection of us coming home"; full of musical theatre classics, the genre that won them the biggest share of the vote as well as winning the hearts and minds of the British public.
Lending their hand-picked selection of favourites, 'Home' features musical classics from stage and screen that include the iTunes instant gratification track 'This Is The Moment' (from the sensational Jekyll & Hyde chosen by fans by an online poll), 'Beauty And The Beast' (taken from the iconic Disney film) and 'Oh What A Night' (featured in the West End smash hit, The Jersey Boys). The album also features one original track 'Lighthouse' written by Ben Adams formerly of BRIT Awards-winning boyband A1.
Collabro's first album 'Stars' charted at No. 1 knocking Ed Sheeran off his record-breaking streak. The album became the fastest selling debut album of 2014. Their second album 'Act Two' followed its predecessors' success, entering the UK charts at No. 2 in the summer of 2015, again becoming one of that year's biggest selling records.
Home is out now and available to buy or download. Although we warn you, we can't stop listening!
Collabro gave us a taste of the new album with a live performance of Beauty & The Beast!
The album track listing is as follows:
1. This Is the Moment (Jeyll & Hyde)
2. Empty Chairs at Empty Tables (Les Miserables)
3.. Beauty and The Beast (from Beauty & The Beast)
4. Til I Hear You Sing (Love Never Dies)
5. Send In The Clowns (A Little Night Music)
6. That's Life
7. Don't Rain On My Parade (Funny Girl)
8. Bui Doi (Miss Saigon)
9. Oh What A Night (Jersey Boys)
10. Journey to The Past (Anastasia)
11. He Lives in You (Lion King 2)
12. For Good (Wicked)
13. Lighthouse