David Gest: A Tribute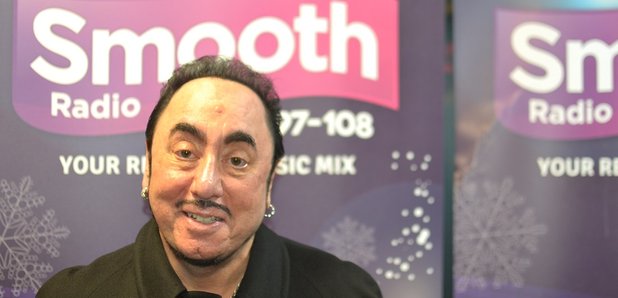 Yesterday the news was announced that music producer and showbiz personality, David Gest had sadly passed away.
The article and stories below are told from the point of view of Jamie Griffiths, Smooth Radio Programme Director and close friend to David.
Our friend David Gest has died at the age of 62 - He worked very closely with us at Smooth North West over the last few years with many sell-out tours and shows, he was always great fun and brightened up the studios no end. David was one of those people who had the best stories (many of which were tall tales!), and he seemed to know literally everybody. He will be sadly missed.
We'd like to share with you a selection of the memories that David shared with us – some of which we've never broadcast. Hopefully they help paint a broader picture of the man he was and the incredibly soulful life he led. As he says himself: "Everything in my life was music"
The man you saw on TV shows and in interviews was very much the 'real' David. He was a man with many stories and many friends in the world of music from Jim Morrison to Michael Jackson, Freda Payne and Martha Reeves.
David started off his music career as a music critic for soul newspapers in the late 60's/ early 70's along trade titles, Record World and Billboard. Having grown up with Michael and Tito Jackson as his best friends, it was no surprise he would become a big fan of R&B music. He told Smooth how he and Michael would go to as many soul concerts as they could. They would visit old record stores at least three times a week to find old R&B records by the likes of James Brown and Jackie Wilson.
David spoke a lot about his friends and the people he would frequent clubs with growing up. Freda Payne, Smokey Robinson, Lamonte McLemore (Fifth Dimension), The Friends of Distinction, Eddie Kendricks (The Temptations) and athlete Jim Brown were the main group of friends David spent his time with in his 20's. He would tell us how they would spend a night out at either a local soul club called Mavericks Flat or The Total Experience in LA. David felt honored to be part of a group which has such a 'great nucleus of talent'.
There was one particular time when David was in the Smooth Radio North West studios and received a phone call half way through the interview. It just so happened to be Tito Jackson! Tito advised us that David was definitely older than him and they spoke about how Tito's mother played a part in raising David. We were lucky enough to receive a personalised message from Tito to our Smooth listeners, what a fun day!
Music always played a big part in David's life. Growing up he would hitchhike from the Valley to Hollywood with his young sweetheart at the time, visiting as many recording studios as they could. Collecting records and selling them to their friends on the school yard. One lucky trip resulted in David meeting music legend, Jim Morrison where he got to witness first-hand the recording of some of The Doors greatest hits.
David spoke with Smooth about growing up with the Jackson family and the various mischief they caused. One story in particular we felt would be nice to share was a time when he and Tito Jackson managed to break into soul legend Aretha Franklin's garden when they were 17! Here they played her piano and playfully had Aretha record two songs with them so they would leave.
He loved to entertain and enjoyed life to the full. When he hit the stage he became a different person and never really took to the limelight until hit TV show, I'm a Celebrity, Get Me Out of Here! He talked to Smooth about his time in the jungle and his close friendship with Michael Jackson. Michael spoke to him about his time on the show and how he got to see the David he grew up with. David told Smooth about when he and Michael would go for a drive and David would refuse to get out of the car to pump gas. This was a job for Michael as David always managed to get gas all over his hands. David told us that Michael would say 'I have the number one album in the nation (Thriller) and you're making me put the gas in the car?' to which David would reply, 'Yes, now do it!'.
When David appeared on 'I'm a Celebrity' in 2006, he spoke about how he felt the producers offered him a large sum to appear on the show, assuming he would last no longer than a day and would potentially be a diva on screen. Leaving them with an appearance from David without having to pay a lot of money. Luckily for us, David flourished on the show and he considered it a great experience that brought him back to life after a tough time before the jungle.
It's our life experiences that help to define us as a person and David was certainly no exception to this. With crazy stories that we can only dream up, David lived a truly eccentric life and shared milestone moments with some of the biggest talent the world has ever seen.
Not only have we lost a talented producer, entertainer and comedian but Smooth Radio has indeed lost a very good friend who will be sorely missed.