Kate Garraway's Got The PERFECT Pancake Mix!
27 February 2017, 14:44 | Updated: 5 July 2017, 15:49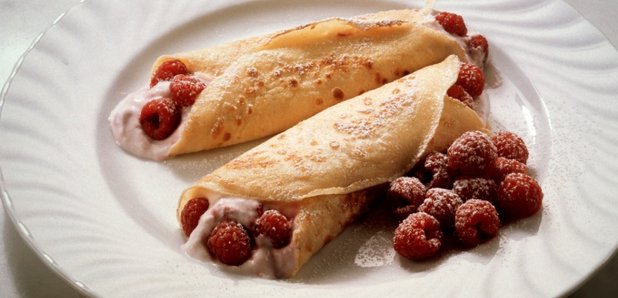 No excuse not to get it right today!
For your perfect pancake mix, Kate's got this foolproof recipe for pancake batter that makes 12-14 pancakes!
Ingredients
110g plain flour
2 large eggs
75ml water
200ml milk
1tbsp melted butter
Method
Sieve the flour into a large mixing bowl and with a spoon make a well in the centre.
Break the eggs into the well and using a whisk slowly incorporate them with the flour.
Gradually add the milk and water until you have a light batter.
Heat a little butter in your frying pan over a hot heat, and add 2 tablespoons of melted butter to
the batter, stir through to combine.
Add a ladle full of the batter to the hot pan and move from side to side until it evenly covers the
surface of the pan.
Reduce the heat and cook for about a minute each side or until the batter begins to take a nice
golden colour.
Eat while still warm.
How Will You Eat Your Pancakes Today?