Man Leaves Love Note For Wife On Wrong Car, Tries To Make Up For It
11 November 2016, 10:39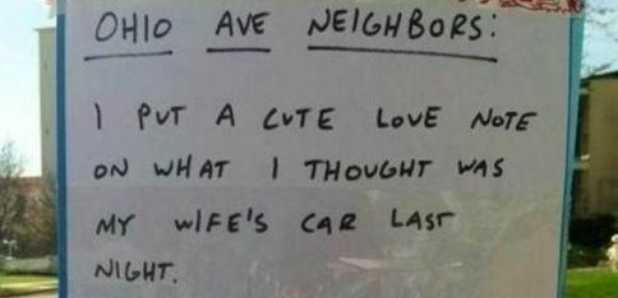 Good idea: Leaving a romantic note for your wife on her car. Bad idea: Leaving it on the neighbour's car.
A romantic gesture is always welcome in our books, as long as it comes our way, and not to someone else.
Of course.
So we feel sorry for Reddit user 'KermitTheSnail' who tried to leave his wife a romantic note on her car, but left it on someone else's car instead.
His wife was understandably upset about the whole incident, and didn't want neighbours thinking her husband was playing around, so 'Kermit' tried to make up for it in the only way he knew how – with another note.
This time, one for the whole neighbourhood to read.
"I put a cute love note on what I thought was my wife's car last night," the poster read. "We figured out today that in my tired state, I had put this note on the wrong car. If this happened to be yours, I apologise for the confusion. I am not in love with you. (Sorry)."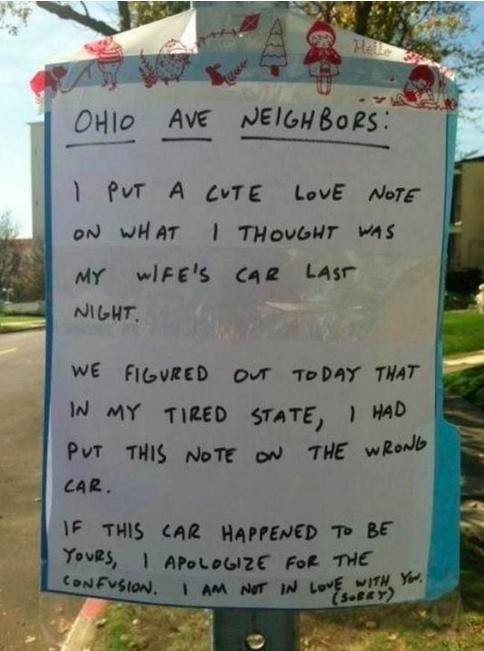 Hopefully the person who wrongly received the note wasn't too upset to find out they didn't actually have a secret admirer...