Tom Jones
Biography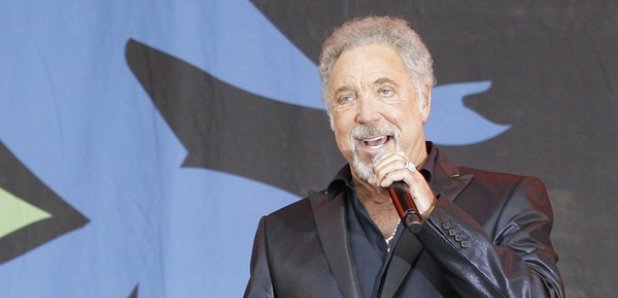 Sir Tom Jones, born Thomas Jones Woodward, is one of the most popular British vocalists ever. In his decade-spanning career, he has sold over 100 million records.
Jones' most recognised songs include "It's Not Unusual", "What's New Pussycat", "Delilah", "Green, Green Grass of Home", "She's a Lady", "Kiss" and "Sex Bomb".
Having been awarded an OBE in 1999, Jones received a knighthood from Queen Elizabeth II for "services to music" in 2006. Jones has received numerous other awards throughout his career, including the Grammy Award for Best New Artist in 1966, an MTV Video Music Award in 1989 and two Brit Awards – winning Best British Male, in 2000, and Outstanding Contribution to Music, in 2003.
Tom Jones In Pictures
We take a look at the life and career of one of our favourite Welshmen - Sir Tom Jones.
Monday, 3rd April 2017
The Welsh crooner thinks that Robbie would be the best choice to play him in the story of his life.
Thursday, 9th February 2017
The pair have been friends for years, but are they taking their relationship to the next level?
Thursday, 29th September 2016
The Welsh legend will re-join the judging panel of the talent show when it moves to ITV next year.
Monday, 26th September 2016
Tom lost his childhood sweetheart, Linda, in April of this year.
Monday, 13th June 2016
The singer performed at Hampton Court Palace at the weekend.
Monday, 6th June 2016
Linda passed away in April from an aggressive form of cancer.
Friday, 29th April 2016
The Welsh singer published a short note on his site thanking people for their support following the death of his wife, Linda.
Thursday, 21st April 2016
'This Is Tom Jones' ran from 1969 to 1971 with a whole host of first class music guests.
Monday, 11th April 2016
Tom had recently cancelled a string of performances due to an illness in his family.
Wednesday, 24th February 2016
Could we see the 75-year-old back on our screens this year?
Friday, 9th October 2015
In an EXCLUSIVE interview with Smooth, the Welsh singer talks to us about his incredible career including the ups and the downs.
Monday, 5th October 2015
We never thought we'd hear words like these uttered by the singing legend!
Monday, 9th February 2015
Watch the best Grammy 2015 performances, including Paul McCartney with Rihanna and Kanye West and Madonna debuting her latest single.
Thursday, 29th January 2015
As Tom Jones prepares to perform at the Grammy Awards, we pick a selection of his best live performances.

Tom Jones and Annie Lennox have both been confirmed for duets at the Grammy Awards 2015.
Friday, 12th December 2014
Politician wants to ban Tom Jones's 'Delilah' before Welsh rugby games
Thursday, 11th September 2014
We take a look at 10 of Sir Tom Jones' very best songs.
Tuesday, 3rd June 2014
Sir Tom Jones said it was 'a great honour' to be awarded the prize
Wednesday, 25th April 2012
Sir Tom Jones new music video has been released online
Now Playing
We've taken stills from 10 of the most iconic music videos of the 1990s. Can you name the songs they're for?
Experience the beauty of Prince and this beautiful song he performed on The Muppets Tonight.