The 7 best Kenny Rogers songs ever
21 March 2020, 11:01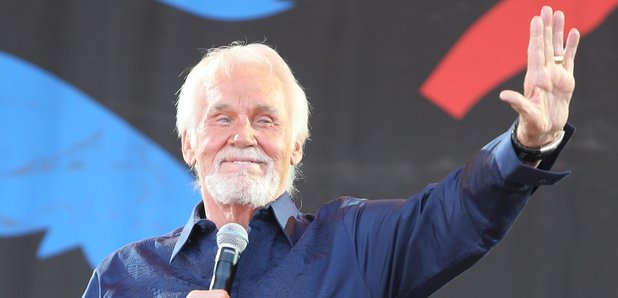 Kenny Rogers was without doubt one of the greatest country singers of all time.
Following his passing at the age of 81, we've selected just a few of his absolute best tracks - is yours in there?
1. 'The Gambler' (1978)
Taken from the album of the same name, this was one of five consecutive songs from Kenny to reach number one on the Billboard country music charts, and it went on to become one of his signature songs. You might recall that Johnny Cash recorded a version of the song for his 1978 album Gone Girl.
Written by Don Schlitz, the song tells the story of a late-night meeting on a train "bound for nowhere" between the singer and a man known only as the gambler. The gambler tells the singer that he can tell he is down on his luck ("out of aces") and offers him advice in exchange for his last sip of whisky. Classic stuff.
2. 'Islands in the Stream' (with Dolly Parton) (1983)
A true Smooth favourite, the Bee Gees of course wrote this song, and Dolly Parton ably accompanied Kenny Rogers. It ended up topping the charts around the world and sold millions of copies.
The Bee Gees originally wrote the song for Marvin Gaye in an R&B style, but later changed it to fit Kenny Rogers' album. Recently speaking about how he wasn't a fan of the song, Kenny explained: "I finally said, 'Barry [Gibb], I don't even like this song anymore' and he said, 'You know what we need? We need Dolly Parton'.
"I had a recording studio at the time and she was downstairs and my manager Ken Kragen said, 'I just saw her!' and I said, 'Well, go get her!' He went downstairs and she came marching into the room, and once she came in and started singing the song was never the same. It took on a personality of its own."
3. 'Lady' (1980)
This song was written and produced by Lionel Richie, and is one of Kenny's biggest hits. Speaking about his collaboration with Richie, Kenny once said: "The idea was that Lionel would come from R&B and I'd come from country, and we'd meet somewhere in pop".
It's no surprise that these two stars achieved success; it reached number one in America and peaked at number 12 in the UK.
4. 'Through The Years' (1981)
Also produced by Lionel Richie, 'Through The Years' looks back at a relationship, saying "I'm so glad I stayed right here with you / through the years." So, it's one for the romantics amongst you.
Stevie Wonder also covered the song, and it featured on his 1981 album Take Me To Your Heaven.
5. 'Lucille' (1977)
Lucille was an international hit for Kenny, reaching number one on the Billboard Country Singles chart and number five on the Billboard Hot 100 in America. It reached the top of the UK Singles Chart in June 1977.
The song is about a man in a bar, who meets a woman who has recently left her husband. It was also Kenny's first notable solo hit after leaving The First Edition.
6. 'Sweet Music Man' (1977)
Featured on his album Daytime Friends, this song was one of Kenny's first big solo hits, reaching the top 10 in America.
It has been covered by many artists, including Dolly Parton, Tammy Wynette, Waylon Jennings and Reba McIntyre.
7. 'Ruby, Don't Take Your Love to Town' (1969)
Originally recorded by Johnny Darrell, it became a huge hit for Kenny and his band The First Edition a few years later.
The song is about a paralyzed war veteran, who either lies helplessly in bed or sits helplessly in his wheelchair as his wife "paints [herself] up" to go out for the evening without him.