U2's Bono and Pharrell have covered 'Stayin' Alive' by the Bee Gees - but is it any good?
21 November 2018, 10:44
It's hard to think of anyone other than the Gibb brothers singing 'Stayin' Alive'.
Prepare to hear a totally different version of the Bee Gees' classic, as U2 frontman Bono teamed up with Pharrell Williams for a special one-off performance.
Appearing on Jimmy Kimmel Live! in the States, the performance was part of a special episode to raise money and awareness for (RED), a charity fighting HIV/AIDS.
Bono and Pharrell stripped back the disco classic, making it sound like something that should be used in a John Lewis Christmas advert.
But, we reckon it works pretty well with Bono's breathy vocals and Pharrell's backing harmonies.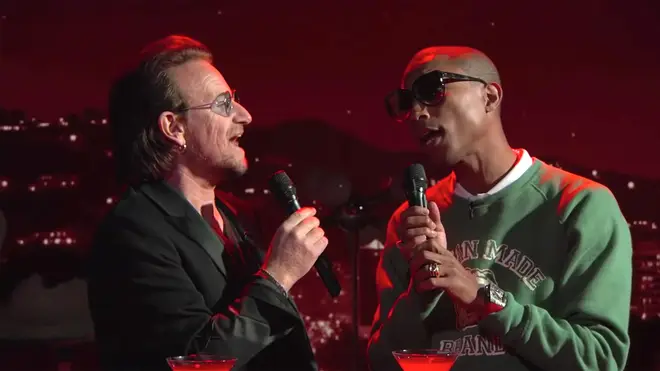 Meanwhile, Bono also revealed that he and Lady Gaga will write a personalised song about the winner of a (RED) sweepstake.
"She can improvise and make up tunes, she made up a song at this event about some red-haired man that she fell in love with," Bono said.
"She said he was an Irish boy – I think she made that up – but she was making the song up as she went, and she's kind of the best of what we've got. She's a sacred talent."
Watch the full performance below:
Bono & Pharrell Sing "Stayin' Alive" – Kimmel (RED) Show