Phil Collins injured after falling over backwards on stage - video
1 October 2019, 13:54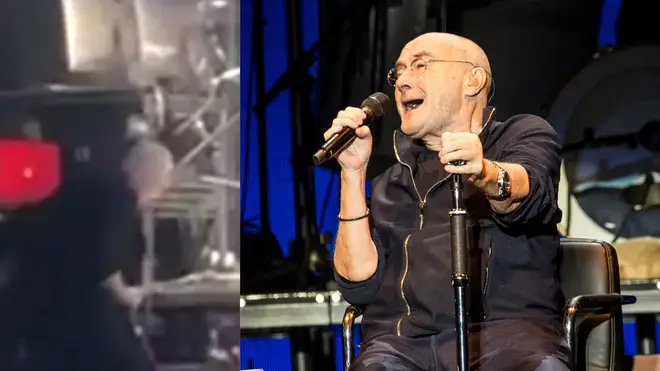 Phil Collins had a scary-looking fall during a concert earlier this week (September 29) in America.
In video published on TMZ, Phil is seen walking back to his chair using a cane during his son Nicholas's drum solo.
However, as he sat down, he fell backwards on his chair. Several crew members rushed to help him back up.
Thankfully, he didn't appear too dazed by the incident, and the show went on.
Phil and his team have not released a statement, so we can assume that he wasn't too badly injured in the accident.
Phil Collins Falls Backward During Charlotte Concert | TMZ
The 'Against All Odds' singer was joined by his son Nicholas on drums, who kept playing with the band as his father was helped up by staff.
Phil gave fans a thumbs-up before settling back into his seat. After the spotlight returned to him, he smiled and carried on with the gig like a pro.
Around 10 years ago, Phil Collins had surgery on his neck, in order to repair spinal issues and nerve damage due to years of slouching at his drum kit.]
After stopping drumming entirely, he had further surgery in 2015 on his back. He fell while he recovering on crutches, fracturing his foot. He later fell again and fractured another part of the same foot, and developed nerve damage that led to him having to use a cane.
Despite all these setbacks, Phil continues to perform to sell-out crowds around the world, and has even been tipped to reunite with Genesis in the near future.