Stevie Wonder was planning a Bill Withers duet before soul singer's death
7 April 2020, 15:13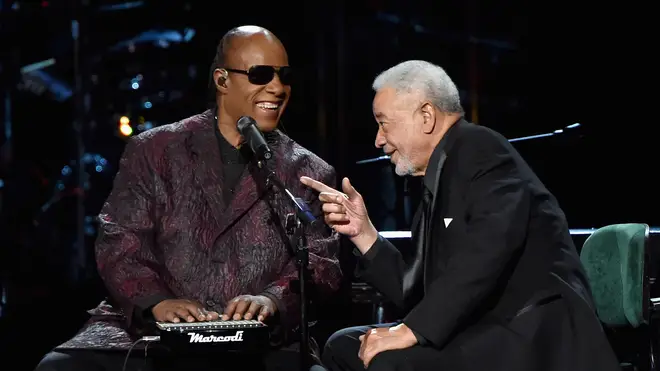 Stevie Wonder has revealed that he was planning on working with Bill Withers, before the 'Ain't No Sunshine' singer died last week.
Soul icon Bill Withers - known for hits 'Lean on Me' and 'Lovely Day' - died aged 81 from heart complications.
Speaking to Billboard, Stevie said that he'd been in "constant contact" with Bill up until his passing, and the soul singers were planning to play together at some point.
"We'd been texting each other," Stevie said. "He texted me in January telling me how much he appreciated me being there for him, then in February he texted about playing together."
Stevie continued: "I responded that it would be my pleasure, my joy. Just let me know and I'll be there. That's the last message I got from him."
Bill Withers Stevie Wonder Ain't No Sunshine Rock & Roll Hall of Fame 2015 Induction
The 69-year-old added that he is now planning to honour Bill Withers' music with fellow musicians by recording their own covers of the star's hits.
"We've got to show a lot of love to [Bill's] wife and children and keep the legacy of what he left behind going ever strong. I think ever artist, at some point, should record one of his songs on their projects.
"That's how you keep it going. He deserves that."
Bill Withers died away in Los Angeles, his family said in a statement on Friday (April 3). They said: "We are devastated by the loss of our beloved, devoted husband and father.
Bill Withers - Lovely Day (1988) Original sound Version 1977 Remastered
"A solitary man with a heart driven to connect to the world at large, with his poetry and music, he spoke honestly to people and connected them to each other.
"As private a life as he lived close to intimate family and friends, his music forever belongs to the world. In this difficult time, we pray his music offers comfort and entertainment as fans hold tight to loved ones."
Withers retired from making music in the mid-1980s.
However, he returned to the spotlight in 2015, when he was inducted into the Rock and Roll Hall of Fame, by Stevie.