The top 8 greatest duets of the 1970s, from Elton and Kiki to John and Olivia
7 August 2018, 17:20 | Updated: 15 October 2020, 20:27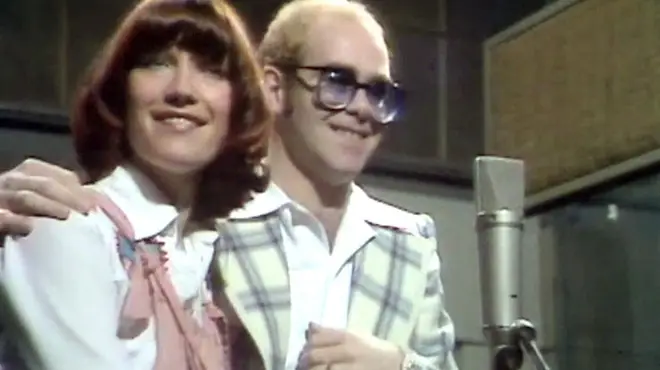 Sometimes you need more than one voice to make a truly great pop song.
The 1970s was a great decade when it came to classic duets, and here are just some of our favourites...
Ashford & Simpson - 'Found a Cure'

Ashford & Simpson - Found A Cure (Live 1979)

Nickolas Ashford and Valerie Simpson were already a successful songwriting and production duo by the time they recorded their own hits, having written the likes of 'Ain't No Mountain High Enough' and 'You're All I Need to Get By'.

One of their biggest '70s hits as a duo came in 1979, when they released this disco gem.

Barbra Streisand and Donna Summer - 'No More Tears (Enough is Enough)'

Donna Summer - No More Tears (Enough Is Enough) (Duet With Barbra Streisand)

This duet with released in 1979 for Barbra's Wet album and Donna Summer's On the Radio compilation. It reached number one in the States.

However, the pair never performed it live together after the song was released. Barbra did include a snippet of the song in her 2012 Back To Brooklyn Tour, and spoke about the recent passing of Donna, and how she wished she was alive to sing it with her.

Michael Jackson and Diana Ross - 'Ease on Down the Road'

The Wiz (3/8) Movie CLIP - Ease on Down the Road (1978) HD

This track featured in the 1978 film adaptation of The Wiz, the musical based on The Wizard of Oz and starring Michael Jackson and Diana Ross. What a world!

The recording was one of Michael's first collaborations with Quincy Jones, who went on to become his main producer during the late 1970s and 1980s.

Kate Bush and Peter Gabriel - 'Another Day'

Kate Bush & Peter Gabriel - Another Day

Originally by Roy Harper, Kate Bush teamed up with Peter Gabriel for this one-off performance on her 1979 Christmas TV special. A single release in 1980 was considered, but the idea was abandoned.

It tells the story of an old affair recollected in the home of an ex-lover, with regrets on both sides, such as desires for children, which never came to pass. For a brief moment it seems an old passion is being rekindled, but instead they decide to part ways.

Roberta Flack and Donny Hathaway - 'Where is the Love'

Roberta Flack & Donny Hathaway - Where Is The Love

Solo artists Flack and Hathaway teamed up for the 1972 album Roberta Flack & Donny Hathaway, and it remains one of the greatest duet albums of all time.

Their biggest hit was this soul track, which was helped largely by Roberta's own solo success thanks to 'The First Time Ever I Saw Your Face'.

Barbra Streisand and Neil Diamond - 'You Don't Bring Me Flowers'

This duet is about two lovers who have drifted apart over time, while they "go through the motions" and heartache of life together. It was intended as theme tune for the short-lived TV show All That Glitters, and was later recorded as two separate solo versions by Neil Diamond and Barbara Streisand.

After an early form of 'mashup' featuring the two versions gained popularity, an official duet was recorded by the pair, and it became a huge hit.

John Travolta and Olivia Newton-John - 'You're the One That I Want'

John Travolta And Olivia Newton John - You're The One That I Want

Along with 'Summer Nights', the two Johns scored two of the biggest hits of all time, let alone the 1970s.

Both songs featured on the Grease soundtrack in 1978, and reached number one in the UK and sold 15 million copies worldwide.

Elton John and Kiki Dee - 'Don't Go Breaking My Heart'

Elton John - Don't Go Breaking My Heart (with Kiki Dee)

Elton John scored his first UK number one single with this classic track, which he and songwriting partner Bernie Taupin originally intended to be with Dusty Springfield.

However, Dusty withdrew the offer due to illness, and so relatively unknown singer Kiki Dee stepped in.

The song was intended as an affectionate parody of the Motown style, notably the duets recorded by Marvin Gaye with Tammi Terrell and Kim Weston. And it worked!