8 of the greatest duets from the 1980s
27 November 2017, 16:43 | Updated: 24 June 2018, 11:40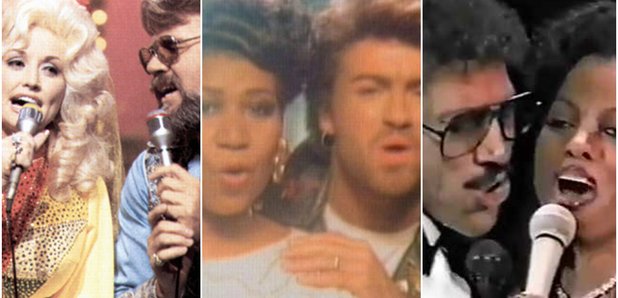 We love a good duet. When two pop icons team up for a few minutes of pure gloriousness.
The 1980s in particular were a treasure trove of amazing collaborations, and we've picked just a handful of the very best, just for you...
1. Michael Jackson and Siedah Garrett - 'I Just Can't Stop Loving You'
The first single taken from Michael's Bad album, Siedah's presence on the track was a last-minute decision by Michael and producer Quincy Jones, after their first two choices, Barbra Streisand and Whitney Houston, both declined.
Before then, Siedah was a protégé of Jones's who co-wrote 'Man in the Mirror', and she didn't know that she would be singing the song until the day of the recording session.
2. George Michael and Aretha Franklin - 'I Knew You Were Waiting for Me'
This one-off project allowed George to perform with one of his all-time favourite artists, Aretha. Co-written by Simon Climie of Climie Fisher fame, it was a number one hit in both the UK and US.
It was Aretha's first top 10 in the UK since 'I Say a Little Prayer' two decades earlier.
3. Joe Cocker and Jennifer Warnes - 'Up Where We Belong'
It's impossible to hear this song and not think of Richard Gere in his navy whites in An Officer and a Gentleman. This duet topped the US charts and won an Oscar, though producer Don Simpson was apparently convinced it would be a flop. Hindsight, eh?
4. Bill Medley and Jennifer Warnes - '(I've Had the) Time of My Life'
Proving that Jennifer Warnes was the undisputed queen of 1980s movie soundtracks, this time she teamed up with Righteous Brothers singer Bill for the main song from Dirty Dancing in 1987.
People have been attempting (usually unsuccessfully) to do the Patrick Swayze 'lift' to the song ever since.
5. The Pogues and Kirsty MacColl - 'Fairytale of New York'
This song just missed out on being the Christmas number one back in 1987, but has gone on to become one of the nation's favourite Christmas songs ever.
That's all thanks to the tale of an on-off couple's bickering conversation between Shane MacGowan and Kirsty MacColl. The song was written as the result of a wager made by Pogues producer Elvis Costello, who said that the band would not be able to write a Christmas hit single. How wrong he was!
6. Pet Shop Boys and Dusty Springfield - 'What Have I Done To Deserve This?'
Not the most obvious collaboration on paper, but it worked brilliantly. This song gave the Pet Shop Boys another number one in the UK, and a number two in the US. It also helped revive Dusty's career.
Neil Tennant had wanted to collaborate with Dusty, who had been one of his childhood heroes for many years, but her management only accepted after the worldwide success of their debut album Please.
7. Dolly Parton and Kenny Rogers - 'Islands in the Stream'
The Bee Gees originally wrote the song for Marvin Gaye in an R&B style, but later changed it to fit Kenny Rogers' album. Recently speaking about how he wasn't a fan of the song, Kenny explained: "I finally said, 'Barry [Gibb], I don't even like this song anymore' and he said, 'You know what we need? We need Dolly Parton'.
"I had a recording studio at the time and she was downstairs and my manager Ken Kragen said, 'I just saw her!' and I said, 'Well, go get her!' He went downstairs and she came marching into the room, and once she came in and started singing the song was never the same. It took on a personality of its own."
8. Lionel Richie and Diana Ross - 'Endless Love'
Recorded by two Motown legends, this song was written as the theme for the Franco Zeffirelli film of the same name.
It ended up becoming both of their biggest hits in America, and was named by Billboard as the greatest duet of all time.