13 of the greatest 1980s one hit wonders
12 June 2018, 14:16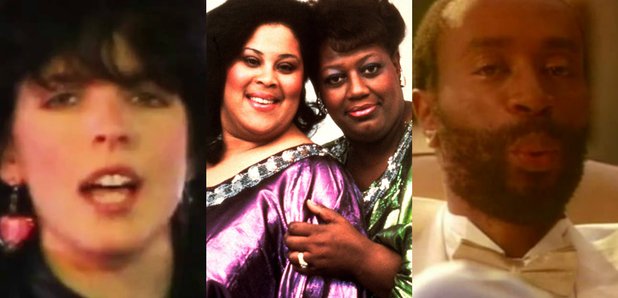 When you think 'one hit wonder' and '1980s', you might be thinking of some of the worst pop atrocities known to mankind.
'There's No One Quite Like Grandma' and 'Shaddap You Face' spring to mind. Shudder.
But there were actually loads of amazing tunes from that decade by artists who sadly never quite followed it up. But when you have songs like this, why do you need more?
1. Fat Larry's Band - 'Zoom'
A Smooth favourite, this is a classic ballad that brings us right back to a school disco slow dance.
Easily their standout hit, it reached number two in the UK in 1982. Sadly, Fat Larry passed away just five years later.
2. Berlin - 'Take My Breath Away'
Berlin won an Oscar for this power ballad, which was recorded for the Top Gun soundtrack. It was Berlin's only Top 40 hit in the UK or US.
It was co-written by electronic icon Giorgio Moroder, who has said that he is most proud of this song, of all the other hits he has had in his career.
3. Nena - '99 Luftballons'
This was a huge number 1 anti-war single for German band Nena in 1984, and was a hit all around the world.
While Nena remained successful with other songs in their homeland, they never came close to replicating it elsewhere.
4. Men Without Hats - 'The Safety Dance'
This quirky tune was by Canadian new wave band Men Without Hats, and it became an unlikely hit around the world in 1983.
The song was written by lead singer Ivan Doroschuk after he had been kicked out of a club for pogo dancing. As you do.
5. Patrick Swayze - 'She's Like the Wind'
We feel bad putting Patrick in this list considering his huge success as an actor, but it still counts!
Co-written Patrick, this song was originally intended for the soundtrack of Grandview, USA, but was not used. During production of Dirty Dancing in 1987, he played the demo for producer Linda Gottlieb and director Emile Ardolino. They loved it and it was recorded for the soundtrack.
6. Bobby McFerrin - 'Don't Worry Be Happy'
This happy little reggae ditty was the first a cappella song to reach number one in the US back in 1988.
Explaining the origin of the song, Bobby said: "Whenever you see a poster of [Indian mystic] Meher Baba, it usually says 'Don't worry, be happy,' which is a pretty neat philosophy in four words, I think."
7. The Weather Girls - 'It's Raining Men'
Who said disco was dead by the 1980s? Turned down by Diana Ross, Donna Summer, Cher, and Barbra Streisand before being accepted by Martha Wash and Izora Armstead, their version became an international hit, selling over 6 million copies.
It has since been covered by everyone from RuPaul to Geri Halliwell.
8. Modern Talking - 'Brother Louie'
These guys are huge in their native Germany, but this was their only hit in the US or UK.
No relation whatsoever to Hot Chocolate's track of the same name, they reunited in 1998 and gave it an update with a rap from Eric Singleton.
9. Phyllis Nelson - 'Move Closer'
While 'Move Closer' failed to make an impact in the US, the song was hugely successful in the UK, where it peaked at the top spot, making Phyllis the first black woman to top the charts in Britain with her own composition.
Sadly, Phyllis died in 1998 from breast cancer, aged just 47.
10. Charlene - 'I've Never Been to Me'
This ballad was a flop upon its release in 1977, but five years later it was re-released and became an international success.
The song is about a desperate wife and mother who would like to trade her current existence for the jet-setting lifestyle of the narrator.
11. Kim Carnes - 'Bette Davis Eyes'
Donna Weiss and Jackie DeShannon first wrote this song in 1974, with DeShannon recording the first version. It was originally a light R&B track, with an uptempo piano part.
It wasn't until 1981, when Kim Carnes recorded her version with a synth-arrangement, that it became an international hit. It spent nine weeks at the top of the US charts. While Kim had several other hits in the US, this was her only UK presence in the chart (and only number 10!).
12. Fiction Factory - 'Feels Like Heaven'
The one and only hit by Scottish band Fiction Factory, this was also their debut release in 1983.
They disbanded just four years later, and singer Kevin Patterson left the music industry soon afterwards. He later worked in the IT department of the University of Dundee. He and co-founder Eddie Jordan reunited to perform the song at the latter's wedding in 2007.
13. John Waite - 'Missing You'
John Waite was the lead singer of the bands Bad English and The Babys, but this was his only hit as a solo artist. But what a hit!
The power ballad reached number one in the US, and he later re-recorded it as a bluegrass folk track with Alison Krauss.