The 20 greatest TV theme tunes from the 1980s
19 October 2017, 15:19 | Updated: 2 November 2017, 15:29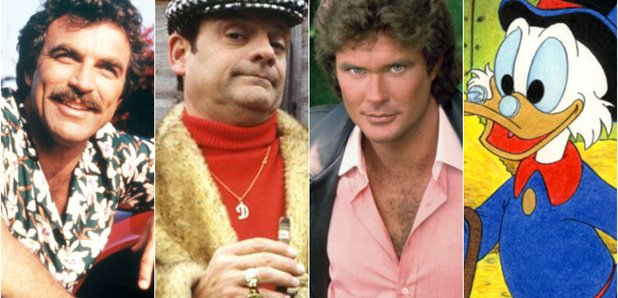 The TV theme is an underrated genre of music. Sure, love songs can be beautiful and rock anthems are awesome, but when the planets align, TV theme tunes can be the absolute best.
We've noticed that in recent years, TV producers have been rather lazy in the theme tune department. Either they just choose an already established song, or they don't bother with a theme at all.
So, we've gone back to arguably the greatest decade of all when it comes to catchy TV themes: the 1980s. Here are our personal favourite 20 intro tunes, is yours in there?
20. Thundercats
19. Poddington Peas
18. Murder She Wrote
17. Dogtanian
16. Miami Vice
15. Red Dwarf
14. Minder
13. Fireman Sam
12. Home and Away
11. Hill Street Blues
10. Magnum PI
Serial TV theme composer Mike Post wrote this banger. And it's as amazing as Tom Selleck's impressive collection of short shorts.
9. The A-Team
You need something as insanely bombastic and bonkers as this tune for a show that featured Dirk Benedict and Mr T constantly on the run. Also, it's that man Mike Post again – what a legend.
8. Teenage Mutant Ninja Turtles
Dudes, this tune is still totally bodacious AND rad after nearly 30 years. Catchy, rocking and it explains all four of the turtles' skills in a very short space of time. Though, we feel sorry that Michelangelo is limited to just being a 'party dude'.
7. Moonlighting
A theme tune so good from Al Jarreau, that it became a hit single in its own right. Plus, it was produced by none other than Nile Rodgers and won two Grammy Awards.
6. Dallas
OK, technically this began in 1978, but the version of the theme tune that we all know and love came in later, so we're counting it! It doesn't get much more 1980s nor spell out AMERICAN SOAP! than this right here. And all the 'slappadabass' action you can get.
5. Only Fools and Horses
Writer John Sullivan pulled off the amazing feat of creating not one, but TWO amazing theme tunes for the SAME SHOW. The intro has the Chas & Dave-style "na na na naa naa", while the outro has 'Hookey Street'. Both excellent in their own way. And sadly it's not Nicholas Lyndhurst singing, it's Sullivan himself.
4. Baywatch
This sunny show's second season brought in Survivor's Jimi Jamison to provide an epic power ballad that summed up the era perfectly, and still floods cheese night dance floors to this day. The first series made do with the less than thrilling 'Above The Waterline' by Kim Carnes.
3. Ducktales
This tune has it all. Crazily catchy, it sounds like the Hall & Oates hit we never had. It also has clever puns, amazing '80s power ballad vocals, saxophones AND a key change. Ooh-woo-woo!
2. Knight Rider
Yep, our top five theme tunes of all time really do contain two shows starring David Hasselhoff. This is one of the best electro songs of all time, let alone theme tunes. Incredible.
1. Cheers
It's one of those intros that will never get boring and you will always sing along. Gary Portnoy's theme tune has a strangely poignant quality to it, and we're still trying to find a pub where everybody knows our name. And preferably shouts it "Norm!" style whenever we arrive.