11 of the greatest songs written for movies
3 January 2018, 15:10 | Updated: 24 June 2018, 00:40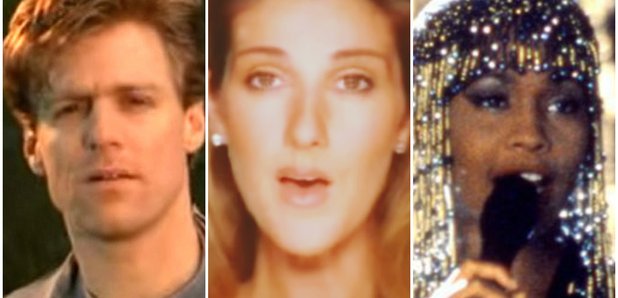 The use of a brilliant song can turn a movie scene from 'good' to 'iconic'.
We've picked some of the all-time greatest songs which were written specifically for a film (not counting musicals), to remind us of the moments where movies and music fit together perfectly.
1. Bryan Adams - 'Everything I Do (I Do It For You)'
Movie: Robin Hood: Prince of Thieves
You can't argue with 16 weeks at number one, which is still the record the consecutive weeks at the top to this day. People may have got sick of this power ballad at the time, but it perfectly summed up the kind of love songs we loved back in the early 1990s.
Also, a quick shout-out to its spiritual sequel: 'All For Love' by Bryan, Sting and Rod Stewart from 1994's The Three Musketeers.
2. Bill Medley and Jennifer Warnes - '(I've Had) The Time of My Life'
Movie: Dirty Dancing
This flick not only had several classic tunes on its soundtrack, but a brilliant ballad by star Patrick Swayze ('She's Like the Wind'), several other new tracks and this end-of-the-night anthem. People have been attempting (usually unsuccessfully) to do the Patrick Swayze 'lift' to the song ever since.
3. Whitney Houston - 'I Have Nothing'
Movie: The Bodyguard
The film's best known song is probably 'I Will Always Love You', but that was already a 1970s ballad by Dolly Parton. In close second is this power ballad, which was another huge success around the world, and has become one of the most performed songs on talent shows over the last decade.
4. Phil Collins - 'Against All Odds'
Movie: Against All Odds
This ballad sees Phil implore an ex-lover to "take a look at me now", knowing that reconciliation is "against all odds" while considering it worth a shot. It was recorded for the movie of the same name and reached number one in the States. It was later a number one in the UK for both Mariah Carey with Westlife in 2000 and X Factor winner Steve Brookstein in 2005.
5. Stevie Wonder - 'I Just Called To Say I Love You'
Movie: The Woman in Red
Stevie wrote this and a couple of other songs for the 1984 comedy The Woman in Red, and it remains probably the most famous thing about the film. It reached number one in the States and the UK, where it remains his only chart-topper.
6. Elton John - 'Can You Feel the Love Tonight'
Movie: The Lion King
We're technically not counting the original Disney movie as a musical, and so we absolutely had to feature this beautiful ballad. Written by Elton and Tim Rice, it won the Oscar for Best Song of 1994, and earned Elton a Grammy Award.
7. Aerosmith - 'I Don't Wanna Miss a Thing'
Movie: Armageddon
No-one saw this one coming, a sudden Top 5 hit from stadium rockers Aerosmith. The power ballad featured in frontman Steven Tyler's daughter Liv Tyler's latest movie, and it remains their all-time biggest hit in the UK.
8. Joe Cocker & Jennifer Warnes - 'Up Where We Belong'
Movie: An Officer and a Gentleman
It's impossible to hear this song and not think of Richard Gere in his navy whites. This duet topped the US charts and won an Oscar, though producer Don Simpson was apparently convinced it would be a flop. Hindsight, eh?
9. Huey Lewis & the News - 'The Power of Love'
Movie: Back to the Future
This was one of THREE big hits called 'The Power of Love' in 1985 (along with Frankie Goes to Hollywood and Jennifer Rush). Huey Lewis himself starred in the classic sci-fi movie as a teacher who wasn't fond of Marty McFly's band (which just so happened to be the rest of The News).
10. Bee Gees - 'Stayin' Alive'
Movie: Saturday Night Fever
The Gibb Brothers totally revamped themselves thanks to this movie, for which they provided the soundtrack. This song was arguably the best of the lot, turning the Bee Gees into the kings of disco in the process.
11. Celine Dion - 'My Heart Will Go On'
Movie: Titanic
The biggest movie of all time (until Avatar in 2010), needed a huge ballad sung by a powerhouse of a vocalist. This track was a massive hit around the world and it remains a tearjerker to this day.