Peter Kay's Car Share: All the music played on Forever FM
29 May 2018, 13:34 | Updated: 23 June 2018, 18:01
Peter Kay's Car Share returns this week, and we're chuffed!
We can't get enough of the will-they-won't-they romance between Peter Kay's John and Sian Gibson's Kayleigh, but one of the main attractions is its amazing soundtrack of classic tunes from the '80s and '90s.
Is it us, or does Forever FM have a similar vibe to a certain radio station we all know and love? Hmmm.
Here's all the music that's ever been used on the show:
Series 1, Episode 1:
Martika - Martika's Kitchen
Spagna - Call Me
Tina Charles - I Love to Love
Texas - When We Are Together
REM - Losing My Religion
B*Witched - C'est La Vie
Erasure - A Little Respect
Anastacia - I'm Outta Love (dream sequence)
Sad Café - Every Day Hurts
Series 1, Episode 2
They Might Be Giants - Birdhouse in Your Soul
R Kelly - Ignition (remix)
Johnny Hates Jazz - Turn Back the Clock
Duran Duran - Ordinary World
Stiltskin - Inside
Blue - All Rise
Vanessa Carlton - A Thousand Miles
Cyndi Lauper - True Colours (dream sequence)
Alicia Bridges - I Love the Nightlife
Laura Branigan - Gloria
Kylie Minogue - I Believe in You
Series 1, Episode 3
The Mock Turtles - Can You Dig It
Olivia Newton-John & ELO - Xanadu
Whitney Houston - How Will I Know
Ini Kamoze - Here Comes the Hotstepper
Color Me Badd - I Wanna Sex You Up
Prefab Sprout - The King of Rock 'n' Roll
Boy Meets Girl - Waiting for a Star to Fall
The Smiths - Please, Please, Please Let Me Get What I Want
Series 1, Episode 4
Five - Keep On Movin'
Hanson - Mmmbop (dream sequence)
R Kelly - Bump N' Grind
OMC - How Bizarre
Sydney Youngblood - If Only I Could
Tears for Fears - Everybody Wants to Rule the World
The B-52s - Love Shack
Series 1, Episode 5
Madonna - Cherish
ABC - When Smokey Sings
Kylie Minogue - Put Yourself in My Place
INXS - New Sensation
Stereophonics - Have a Nice Day
Enrique Iglesias - Hero
Boyzone - Picture of You
Cliff Richard - Devil Woman (dream sequence)
The Cars - Drive
Aretha Franklin & George Michael - I Knew You Were Waiting (For Me)
Aztec Camera - Somewhere in My Heart
Donna Summer - This Time I Know It's for Real
Johnny Cash - A Thing Called Love
Series 1, Episode 6
John Farnham - You're the Voice
Deacon Blue - Chocolate Girl
Kid Creole - Annie I'm Not Your Daddy
Steve Winwood - Valerie
Rick Astley - Cry for Help
Right Said Fred & Jocelyn Brown - Don't Talk Just Kiss
Haircut 100 - Love Plus One
Compendium - In the City (John's band)
Paul McCartney & Stevie Wonder - Ebony & Ivory
Joan Jett & The Blackhearts - I Love Rock 'n Roll
The Feeling - Never Be Lonely
Amy Grant - Baby Baby
Jane Wiedlin - Rush Hour (dream sequence)
Extreme - More than Words
Hear'Say - Pure and Simple (Kayleigh's CD)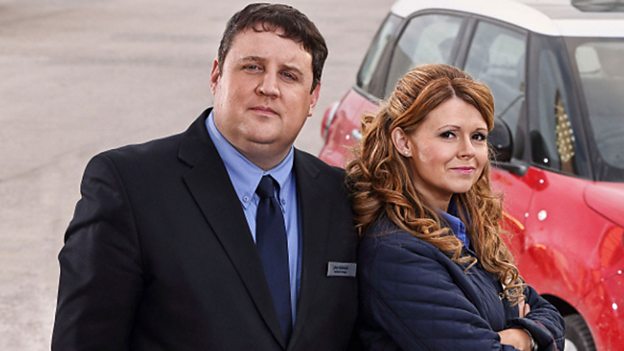 Series 2, Episode 1
S Club 7 - Never Had a Dream Come True (CD, dream sequence)
Jermaine Stewart - We Don't Have to Take Our Clothes Off
Enigma - Sadness (Part 1)
Bardo - One Step Further
Gwen Stefani - The Sweet Escape
The Pointer Sisters - Jump (viral video)
Ronan Keating - Life is a Rollercoaster
Wet Wet Wet - Sweet Little Mystery
REO Speedwagon - Can't Fight This Feeling
Series 2, Episode 2
Divinyls - I Touch Myself
JX - Son of a Gun
Livin' Joy - Dreamer
Crazy Frog - Axel F
Urban Cookie Collective - The Key, The Secret
Gina G - Ooh Ahh Just a Little Bit
Kelis - Milkshake
Fat Larry's Band - Zoom
Minnie Riperton - Lovin' You
Phyllis Nelson - Move Closer
Scorpions - Wind of Change
Spice Girls - 2 Become 1
Martine McCutcheon - Perfect Moment
Madonna - Crazy For You (dream sequence)
Champaign - How 'Bout Us
Will to Power - Baby I Love Your Way
Brenda Russell - Piano in the Dark
Phil Collins - A Groovy Kind of Love
Donna Lewis - I Love You Always Forever
Scritti Politti - Oh Patti (Don't Feel Sorry for Loverboy)
Series 2, Episode 3
Sophie B Hawkins - Damn I Wish I Was Your Lover
Wilson Phillips - Hold On
INXS - Disappear
Lloyd Cole and the Commotions - Lost Weekend
Salt n Pepa - Push It
Climie Fisher - Love Changes Everything
The Pretenders - Don't Get Me Wrong
Train - Drops of Jupiter
Edwin Starr - HAPPY Radio
Shakira - Hips Don't Lie
George Michael - Monkey (end credits)
Series 2, Episode 4
Grandmaster Flash and the Furious Five - White Lines (Don't Do It)
Ph.D - I Won't Let You Down
Neneh Cherry - Buffalo Stance (dream sequence)
Phil Oakey & Giorgio Moroder - Together in Electric Dreams
Imagination - Body Talk
Billy Ocean - Red Light Spells Danger
The Maisonettes - Heartache Avenue
Crash Test Dummies - Mmm Mmm Mmm Mmm
George Michael - Praying for Time
Marillion - Kayleigh
Series 2, Unscripted
Edwyn Collins - A Girl Like You
Trio - Da Da Da
Martika - Toy Soldiers
Buzzcocks - Ever Fallen in Love?
The Belle Stars - Sign of the Times
The Divine Comedy - The National Express
Four Tops - Loco in Acapulco
Bee Gees - More than a Woman
Madonna - Borderline
Danny Wilson - The Second Summer of Love
Series 2, The Finale
Yes - Owner of a Lonely Heart
Compendium - Come Back My Car Share Buddy (John's band)
Annie Lennox - Waiting in Vain
Another Level - Freak Me
Transvision Vamp - Baby I Don't Care
Big Audio Dynamite - E=MC2
Joan Armatrading - Drop the Pilot
Wax - Bridge to Your Heart