The Story of... 'You're So Vain' by Carly Simon
22 August 2018, 16:24 | Updated: 2 October 2018, 20:50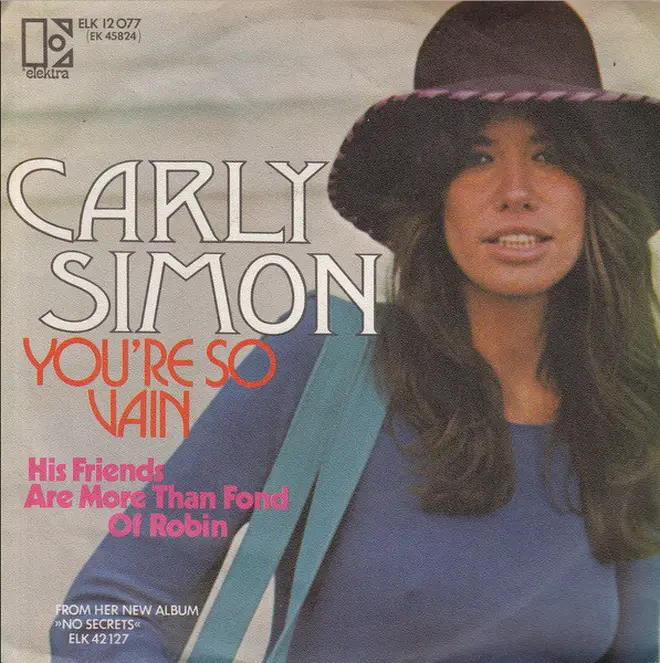 It's the ultimate breakup song for when your ex behaved like a total and utter [insert your favoured word here].
But who was the classic song by Carly Simon actually about? What inspired it? And how much of a success was it?
Here's all the big facts behind 'You're So Vain'...
'You're So Vain' meaning: What is the song about?

The song is a critical look back at a self-absorbed lover, about whom Carly Simon says: "You're so vain, you probably think this song is about you."

Before the song became a hit single in 1972, Simon told an interviewer that the song was actually about "men," not a specific "man"

'You're So Vain' subject: Who is the song about?

Warren Beatty.

Picture: Getty

This has been a topic of much debate ever since it was released.

Simon has said in the past that the song refers to three men, but only one of whom she has named publicly is actor Warren Beatty.

In 1983, she said it is not about Mick Jagger, who also contributed uncredited backing vocals to the song.

In 2007, Warren Beatty said: "Let's be honest. That song was about me." Simon had said in 1983 that Beatty "certainly thought it was about him — he called me and said thanks for the song..."

Simon has also given "letter clues", and has claimed that the subject's name contains the letters A, E, and R.

Shortly before she wrote the song, Simon was married to singer James Taylor. However, she has said that he was "definitely not" the subject of the song. David Bowie, David Cassidy and Cat Stevens have all been named by the press as potential candidates.

James Taylor.

Picture: Getty

In August 2003, Simon agreed to reveal the name of the song's subject to the highest bidder of the Martha's Vineyard Possible Dreams charity auction. The top bid of $50,000 came from Dick Ebersol, president of NBC Sports and a friend of Simon, and he won the right to know the name of the subject. However, a condition of the prize was that Ebersol would not reveal the name.

In 2004, Simon told Regis Philbin: "If I tell it, it's going to come out in dribs and drabs. And I've given out two letters already, an 'A' and an 'E.' But I'm going to add one to it. I'm going to add an 'R' in honour of you."

In her 2008 book Girls Like Us, author Sheila Weller includes an account of Simon's love affair with musician Dan Armstrong, and ponders that he was the inspiration for the song. Armstrong's full name, Daniel Kent Armstrong, contains all three letters of Simon's clue.

In November 2015, Simon said: "I have confirmed that the second verse is Warren" and added that while "Warren thinks the whole thing is about him," he is the subject of that verse only.

What does 'clouds in my coffee' mean?

And not 'clowns in my coffee', like we though it was for years... 😑

According to Simon, this line came "from an airplane flight that I took with Billy Mernit, who was my friend and piano player at the time.

"As I got my coffee, there were clouds outside the window of the airplane and you could see the reflection in the cup of coffee. Billy said to me, 'Look at the clouds in your coffee'."

How did it perform in the charts?

Carly Simon - You're So Vain (with lyrics)

The song was a number one hit in the US, and is the 92nd best-selling song of all time in the country as of 2018.

It reached number three in the UK.

It was originally meant to be a folk ballad

It was producer Richard Perry who suggested turning the song into a soft rock track.

Simon later explained to Uncut: "I played it in a much slower tempo, which he raised. I didn't take the song as seriously as all that. It wasn't vengeance - it wasn't Anna Karenina. It was, 'From this point of view, you don't necessarily look as good as you think you look.' There's not an iota of hate in it.

"There may be much more of an iota of feeling hurt or rejected. I was brought up by a mother who was adamant that you didn't even kiss a man unless you were in love with him. So I was in love with a lot of men! I was definitely a romantic and my hopes were dashed. That led to the song.

"But I admired all those candidates, for their great artistic sensibility. I was besotted by the lads! Of course, I've never established whether I was attracted to that person. I don't think I would be now."

Who else has covered it?

Taylor Swift and Carly Simon: You're So Vain

The song has been covered by the likes of:

- Liza Minnelli
- The Feeling
- Janet Jackson (sampling it in 'Son of a Gun (I Betcha Think This Song Is About You)', with Simon providing backing vocals)
- Marilyn Manson (featuring Johnny Depp)
- Foo Fighters
- Taylor Swift (live, with Carly Simon)
-