7 of Celine Dion's greatest ever duets, from Barbra Streisand to Elvis Presley
10 May 2018, 16:32 | Updated: 5 June 2018, 17:26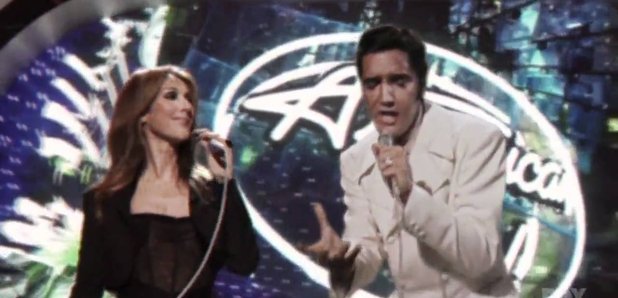 You'd have to be mad or fearless to try and duet with Celine Dion, but these lot have tried it.
Celine Dion has teamed up with some of the world's greatest artists, and it usually creates power ballads that dreams were made of...
1. 'Tell Him' (with Barbra Streisand)
Two vocal powerhouses teamed up in 1997 for this one-off duet. Earlier that year, Celine was the first artist ever to perform twice at the same Oscars, after Natalie Cole had to pull out at the last minute to perform Streisand's song 'I Finally Found Someone'. Although nervous, she agreed to perform on the night.
A few days later, Streisand sent Celine flowers and a note, saying: "I watched the tape afterwards, you sang my song beautifully and I regret I wasn't in the room to hear you, next time let's make one together. I really wish your song would have won, you are a wonderful singer." Before they knew it, 'Tell Him' was born.
2. 'Beauty and the Beast' (with Peabo Bryson)
This was arguably the song which transformed Celine into a globally-successful recording artist.
For the 1991 Disney movie of the same name, Celine teamed up with American singer Bryson for the end credits version of the tune sang by Angela Lansbury's Mrs Potts. It ended up winning an Oscar the following year.
3. 'Immortality' (with Bee Gees)
Written by three Gibb brothers, Celine duetted with the group for this song on her Let's Talk About Love album in 1998.
The song became a huge hit around the world, including a number five success in the UK.
4. 'All the Way' (with Frank Sinatra)
Celine had already performed this song on tour, before recording it as a duet with Sinatra, using his vocals from his 1963 original.
She later performed the song as a virtual duet at her Las Vegas show, which won her a Grammy nomination.
5. '(You Make Me Feel Like a) Natural Woman' (with all the divas)
Celine had already recorded a cover of Carole King's soul classic, and then in April 1998 she performed the song live during a VH1 Divas concert in New York, alongside Aretha Franklin, Mariah Carey, Shania Twain, Gloria Estefan and Carole King herself.
The six singers came together to raise money for Save the Music, their education charity. The concert was later released as an album.
6. 'If I Can Dream' (with Elvis Presley)
In 2007, Celine performed another virtual duet, this time with the King.
Appearing on season six of American Idol, she performed this gospel anthem alongside a projection of Elvis.
7. 'The Prayer' (with Andrea Bocelli)
Recorded for the Quest for Camelot movie, this saw Celine team up with Italian singer Andrea Bocelli.
In 2008, she released a new version with singer Josh Groban. The pair had first performed it together in 1999 when Josh was just 17, when he filled in for Bocelli during rehearsals.