Here's how to make Creme Egg pancakes
9 February 2018, 15:03 | Updated: 7 March 2018, 11:03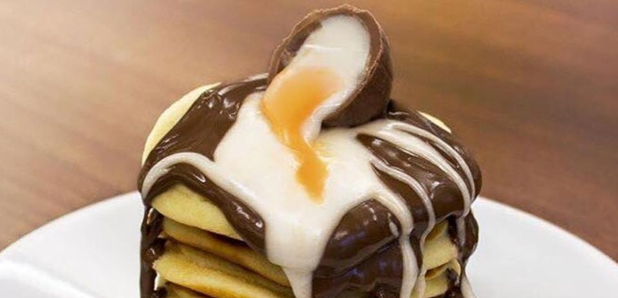 Shrove Tuesday is almost here, and the arrival of Creme Eggs has also got us in the Easter mood way too soon.
So, how about combining the two by making these glorious Creme Egg pancakes for Pancake Day?
Sure, it's incredibly calorific and full of carbs, but it's only once a year, right?
Here's what you need:
3 Creme Eggs
1 Egg, large
Spices
30g caster sugar
1 tbsp caster sugar
1 pinch salt
120g self-raising flour
Dairy
129 1/2 ml Double cream
140 ml Milk
Method:
1. To make the whipped cream, whisk the double cream with the caster sugar until thick and set it aside
2. Heat a non-stick frying pan over a medium heat. Whisk together the egg and the milk in a jug. Sieve the flour into a large bowl and pour in the egg mixture. Mix it all up until they're all combined.
3. Chuck 1 tbsp of the batter into the hot pan for each pancake, and spread them out into a circle with the back of a spoon. They should take 2-3 minutes before they start bubbling. Using a palette knife, check they are golden underneath, then flip over for a few seconds (always the fun part).
4. Repeat until all of the batter is used up, it should give you around 12 pancakes.
5. For the sauce, cut the Creme Eggs into quarters and heat in a pan with the double cream, until it's all melted.
6. Stack the pancakes by spreading a thick layer of double cream between each pancake, and drizzle with the remaining sauce. Top them with some halved Creme Eggs and serve!