8 of the best Fleetwood Mac cover versions, from Eva Cassidy to Lissie
23 March 2018, 17:24 | Updated: 23 March 2018, 17:25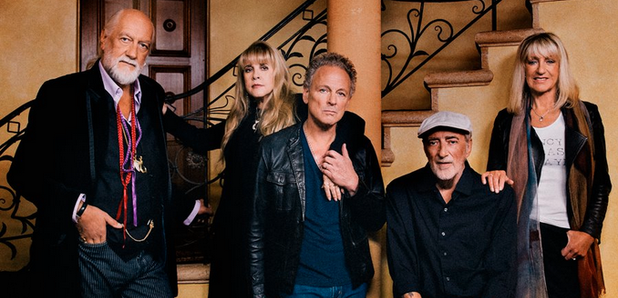 Fleetwood Mac are one of the most fascinating groups of all time.
They've had about 3,258 different eras and lineup changes over the years, but at the heart of it all, they've always released incredible music.
This has obviously led to countless artists recording their own takes on their favourite Mac tracks. Here are just a few of our favourites...
1. The Corrs - 'Dreams'
This Stevie Nicks-penned track from Rumours became a big hit for Irish family group The Corrs in 1999.
The siblings put their own Celtic twang on the song, and it peaked at number six in the UK chart.
2. Florence + the Machine - 'The Chain'
How can you cover 'The Chain'?!, you ask. Quite a number of artists have tried to put their own spin on the epic rock classic.
Our favourite has to be this live version at Glastonbury Festival in 2010 - the perfect tune for a summer's day in mud.
3. Paramore - 'Everywhere'
Pop punk band Paramore started playing this 1980s pop classic during their live sets in 2017, and who can blame them?
The feel good track suits the Hayley Williams-fronted band's sound perfectly.
4. Dixie Chicks - 'Landslide'
Another heartbreaking ballad by Stevie Nicks, country trio Dixie Chicks scored a huge hit with their cover in 2002.
Reaching the top 10 in the States, lead singer Natalie Maines said she was attracted to the song as she was then the same age that Nicks was when she initially performed it.
5. Elton John - 'Don't Stop'
One of the most famous tracks on Rumours, it's always going to be hard to live up to such an anthem.
But Elton gave it a good go in 1998 with a funky version for the Fleetwood Mac tribute album Legacy.
6. Eva Cassidy - 'Songbird'
Arguably the most famous Fleetwood Mac cover version of all time, this is a truly beautiful song that might even have bettered the original!
Eva's version was released in 1998 on her posthumous album of the same name. Despite being released two years after her death, the album went on to reach number 1 in the UK in 2001. Her version can also be heard in Love Actually.
7. Lissie - 'Go Your Own Way'
Many people have noticed the similarities between American singer Lissie's voice with Stevie Nicks, and some of her own songs have a certain Fleetwood Mac quality about them.
She must have heard this a lot, as she recorded her own version of 'Go Your Own Way', and it's brilliant.
8. Goo Goo Dolls - 'I Don't Want to Know'
This was another track from the tribute album Legacy in 1998, recorded by American rock band Goo Goo Dolls.
The band totally transformed the folk-rock ditty into a fully fledged 1990s indie rock anthem, and it works perfectly.