11 best George Michael duets, from Elton John to Whitney Houston
27 October 2017, 13:25 | Updated: 24 June 2018, 16:15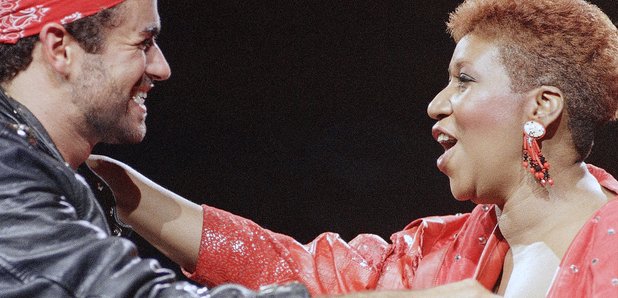 During his career, George Michael was highly sought after when it came to high-profile duets with some of the biggest artists around.
He sang with pretty much anyone you can think of, and we've selected just a few of the absolute best of the best:
1. ... with Whitney Houston - 'If I Told You That'
Originally intended as a duet with Michael Jackson, Whitney re-recorded this 1998 solo song two years later for her Greatest Hits collection.
2. ...with Aretha Franklin - 'I Knew You Were Waiting for Me'
This one-off project allowed George to perform with one of his all-time favourite artists, Aretha. Co-written by Simon Climie of Climie Fisher fame, it was a number one hit in both the UK and US.
3. ...with Mary J Blige - 'As'
George covered this Stevie Wonder classic for his greatest hits collection Ladies & Gentlemen in 1999, and it took George back into the UK top five.
4. ...with Elton John - 'Don't Let the Sun Go Down on Me'
George surprised his fans on tour in 1991 with a special appearance from Elton to perform the latter's classic anthem, and it was so popular that it was released as a single. It reached number one in the UK.
5. ...with Beyoncé - 'If I Were a Boy'
OK, you might not be able to hear it over all the screaming fans, but George surprised everyone by turning up at Beyoncé's O2 gig in 2009.
7. ...with Luciano Pavarotti - 'Don't Let the Sun Go Down on Me'
This song again, but what a performance with the operatic icon in Modena back in 2000.
8. ...with Paul McCartney - 'Heal the Pain'
George always intended this song as an homage to a Paul McCartney-style song, and then in 2006 he re-recorded it with the man himself for his Twentyfive collection.
9. ...with Stevie Wonder - 'Living for the City'
George performed with Stevie a few times, but our favourite has to be this powerful version of Stevie's classic social song 'Living for the City' for a VH1 special.
10. ...with Queen - 'Somebody to Love'
Another number one hit. This time, he teamed up with Queen for Freddie Mercury's tribute concert in 1991.
11. ...with Smokey Robinson - 'Careless Whisper'
A very young George sang his number one ballad with Motown legend Smokey for a US special back in 1985.