The Great British Bake Off 2018: Start date, trailer, judges, cast and all the details
21 August 2018, 10:16 | Updated: 2 October 2018, 20:44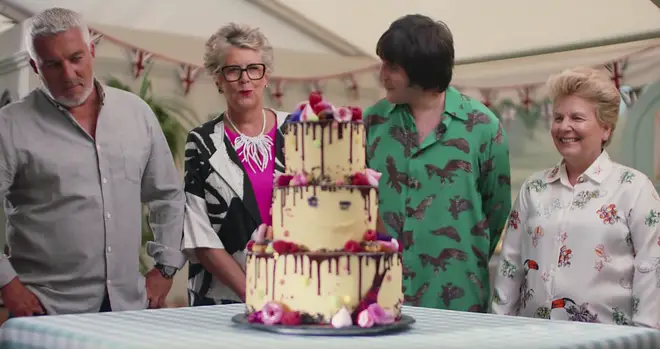 It's nearly that time again!
The Great British Bake Off will return to Channel 4 later this month, and we're very excited to be getting far too invested in a bunch of contestants baking some cakes, pies, and bread.
Here's all the details about series 9 so far...
The Great British Bake Off series 9 start date: When does it return to Channel 4?

Channel 4 has confirmed the start date for series 9!

It will launch on Tuesday, August 28 at 8pm.

Bake Off series 9 cast: Who are the contestants?

Picture: Channel 4

We now know each of the contestants! Meet them all below:

1. Luke, 30

Picture: Channel 4

Job: Civil Servant and Techno DJ

From: Sheffield

"I didn't watch Bake Off until two years ago and then my friends pressured me to apply and I thought 'yes, let's give it a go'. It's an amazing challenge and when I applied I never thought I would get into the tent in a million years."

2. Antony, 30

Picture: Channel 4

Job: Banker

From: London

"I went in [Bake Off] for my dad who taught me how to make a Victoria Sponge as a little boy. And my partner who signed me up for this. All of my friends back home in India will be really surprised. They have known me to be a singer in a choir and a two piece band – but never as a baker. So it will be interesting to see their reaction."

3. Kim-Joy, 27

Picture: Channel 4

Job: Mental Health Specialist

From: Leeds

"None of my family really bake, it's just me that bakes. My friends have always wanted me to apply, but I didn't feel confident enough to apply until this year. I went into the tent mostly for myself to see if I could it!"

4. Jon, 47

Picture: Channel 4

Job: Blood courier

From: Newport, Wales

"I've always loved cooking, especially baking and as a family we've always loved watching Bake Off. I bake as often as I can – several times a week, mainly in the day while my wife and children are at school as I get some peace that way! The time pressure in the tent was harder of course but I have to admit I loved every minute."

5. Ruby, 29

Picture: Channel 4

Job: Project Manager

From: London

"Because I am so new to baking there are going to be so many people that will be shocked. I don't really post about my baking on social media, so I am sure my friends are going to be surprised."

6. Dan, 36

Picture: Channel 4

Job: Full-time parent

From: London

"My reasons for taking part in Bake Off were entirely selfish. I have been at home looking after the kids for the last six years, so it was a chance to do something for myself. With my youngest starting school, I'm now ready to rejoin the world of adults – I hoped that Bake Off might represent an opportunity to do something that I love and am passionate about."

7. Rahul, 30

Picture: Channel 4

Job: Research Scientist

From: Rotherham

"Even five years ago I really had no idea about The Great British Bake Off. One of my colleagues kind of pushed me to apply for Bake Off. He kept sending me the application link, until I said to him that I have started applying."

8. Manon, 26

Picture: Channel 4

Job: Software Project Manager

From: London (born in France)

"When me and my best friend came to England, Bake Off was one of the first shows we watched together on TV. At work, my clients don't really see me as a baker, so I think they are going to be very shocked!"

9. Karen, 60

Picture: Channel 4

Job: In-store Sampling Assistant

From: West Yorkshire

"My daughters encouraged me to do [Bake Off], and I was approaching 60 and I found it really liberating to do something like this. As you get older you feel less inhibited, and think does it matter if you make a fool of yourself."

10. Imelda, 33

Picture: Channel 4

Job: Countryside Recreation Officer

From: County Tyrone, Northern Ireland

"I went in [to Bake Off] for me as a challenge obviously for the baking, but also to have the confidence of meeting new people, I don't usually put myself out there personally. My friends will be so so surprised, they wouldn't think I would do something like this, and an auntie that I go to yoga with every week will want to know why I didn't tell her!"

11. Terry, 56

Picture: Channel 4

Job: Retired Air Steward

From: West Midlands

"To be honest, I went into the tent for myself. I wanted to change life a little, shake it up a bit, start a new course. I am on a new journey in life at the moment, and what better way to start it."

12. Briony, 33

Picture: Channel 4

Job: Full-time parent

From: Bristol

"My uni friends [will be shocked], as we keep in regular contact still, but none of them have a clue. So that will be funny when they find out. I went in the tent for myself – and to make my family proud."

The Great British Bake Off series 9 trailer: Is there a teaser yet?

Yes!

The trailer sees a return to the somewhat creepy singing cakes from last year, but this time to the tune of Christina Aguilera's 'Beautiful'. Prepare to be tickled or freaked out!

The Great British Bake off judges and presenters: Who's coming back?

Picture: Channel 4

It's the same lineup as last year!

Paul Hollywood will once again be joined by Prue Leith (despite her accidentally revealing the winner before the final was broadcast last year!), while hosts Sandi Toksvig and Noel Fielding will be back for a second run.