The Story of... 'I Knew You Were Waiting (For Me)' by George and Aretha
16 August 2018, 16:11 | Updated: 2 October 2018, 20:51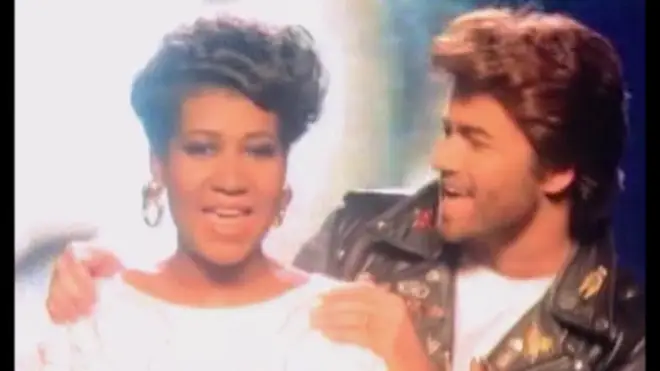 It's one of the greatest duets of all time, bringing together two of pop and soul's most iconic stars.
George Michael and Aretha Franklin teamed up for this one-off duet in 1987, but how did it come about and how did George feel about working with such a hero of his?
Here are all the big facts and stories behind the classic tune...
Who wrote 'I Knew You Were Waiting (For Me)'?

Picture: Arista

The track was written by songwriting duo Dennis Morgan and Simon Climie, the latter of which formed one half of the duo Climie Fisher.

Morgan and Climie met in 1983 after Morgan attended an Everly Brothers concert. It was the third song they wrote together. Morgan later told The Billboard Book of Number One Hits: "That was one of those songs that came out of mid air – a gift from above, if you will."

It wasn't meant to be a duet

The song was not originally written as a duet.

Climie and Morgan pitched the song to Tina Turner, as well as to Aretha Franklin and Arista Records head Clive Davis.

It was then Davis's idea to get Franklin to record it as a duet with George Michael.

George was starstruck to work with Aretha

George Michael talking about working with Aretha Franklin- 2014 Radio interview

George Michael wrote about his experience recording this song in his book, Bare, saying that he and Aretha recorded the song together but did their ad-libs separately.

He also praised producer Narada Michael Walden for being "brilliant" at getting a great atmosphere captured in the studio.

He admitted to being nervous, but knew there was no point in trying to copy Aretha. "Nobody can emulate Aretha Franklin," he said. "It's stupid to try. I just tried to stay in character, keep it simple - it was very understated in comparison to what she did."

He also revealed that Aretha brought with her "a big rack of ribs" to the studio.

George had only not produced one song before this, as part of Band Aid for 'Do They Know it's Christmas'. He was so used to self-producing his music that he had a difficult time knowing when to stop singing. Walden later explained: "He looked at me with those innocent virgin eyes, like he'd never been told, 'you oughta stop, kid.'"

Aretha loved working with George

"The first time I heard George was with Wham! and I liked it then," she told Entertainment Weekly in 2017.

"He had a very unique sound, very different from anything that was out there. When Clive [Davis] suggested we get together for 'I Knew You Were Waiting,' I was all ready. It reminded me of Jerry Wexler. We'd go in the studio and cut songs. If we were happy with what we recorded, Jerry would say, 'Let's wait until tomorrow. If we feel the same way that we do now, maybe we have a hit.'

"'I Knew You Were Waiting' had that. Musically, it does not grow old."

On the video, she added, "We had a super time. He was calling most of the shots: how he wanted this, how he wanted that. My older sister, Erma, just fell for him right away. He was very friendly and personable, easy to talk to."

It was a huge hit around the world

George Michael, Aretha Franklin - I Knew You Were Waiting (For Me) (Official Video)

The song went to number one in both the UK and US. It was George's third consecutive number one after 'Careless Whisper' and 'A Different Corner'. It also helped make him a huge solo star in the US, as it came out just before his debut album Faith.

For Aretha, it was amazingly her only UK number one single. It was also her first UK top 10 since 'I Say a Little Prayer' 20 years earlier.

Who has covered the song?

I Knew You Were Waiting (For Me) - Michael McDonald

Surprisingly not that many, but there have been a few eclectic artists over the years, including:

- Michael McDonald (listen above)
- The Shadows
- Hear'Say
- Tim McGraw and Faith Hill