Kim Cattrall and Sarah Jessica Parker fallout: A timeline of the Sex and City stars' feud
16 February 2018, 10:55 | Updated: 7 March 2018, 11:01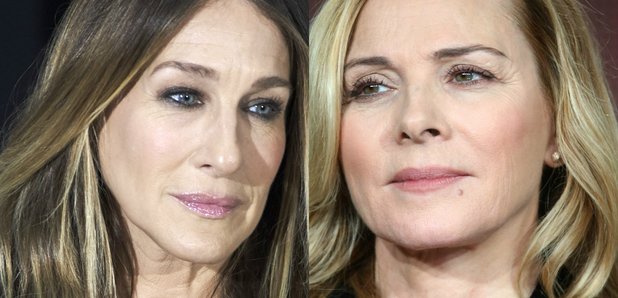 There have been rumours for years that Sex and the City co-stars Kim Cattrall and Sarah Jessica Parker don't get on, but they have usually played down such stories.
That all changed in recent months. It all seemed to start up again in late 2017 when news emerged that a third Sex and the City movie won't be made, and it's just grown ever since.
2004
In February, the final episode of Sex and the City airs after six seasons. The first movie spinoff was meant to start filming not long after, it was delayed due to various reasons, including apparent salary issues.
Tensions apparently grew between Kim and the rest of the cast after she asked for a raise due to Sarah Jessica Parker's season two promotion to executive producer on the series. The Telegraph reported that that Sarah, Kristin Davis, and Cynthia Nixon started distancing themselves from Kim, even during "meal times." Davis later shot down such a "ridiculous" story.
In September, Kim is seen noticeably far away from her co-stars at the Emmys. At the HBO after-party, all four ladies are spotted but only three are photographed celebrating their awards. Kim later told the Telegraph: "Are we the best of friends? No. We're professional actresses. We have our own separate lives."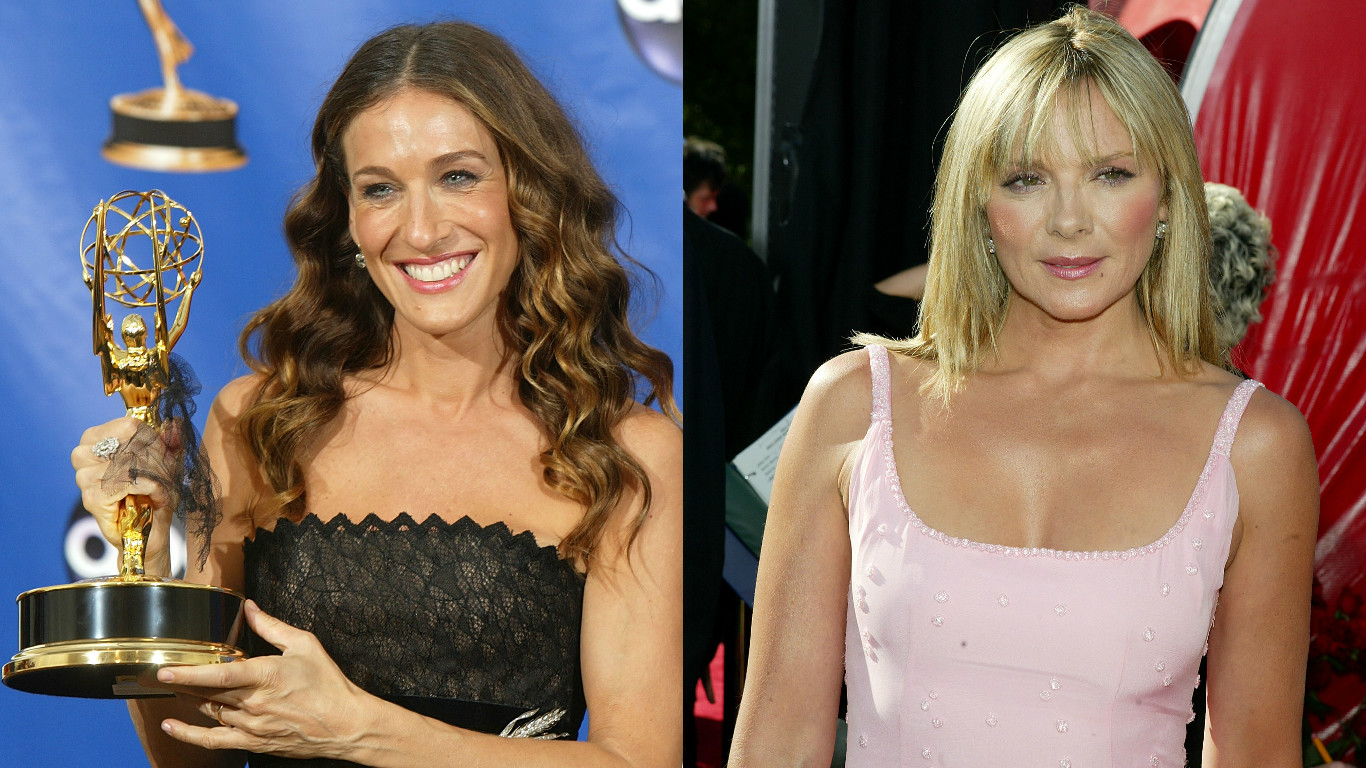 In December, Kim told Jonathan Ross: "I felt after six years it was time for all of us to participate in the financial windfall of Sex And The City. When they didn't seem keen on that I thought it was time to move on." She also revealed that she had asked for $1 million per episode, which was more than double the reported $350,000 she was earning.
2008
Speaking to the Telegraph on the set of the first SATC movie, Sarah defended her friendship with Kim: "Honestly, we are all friends and I wish I saw more of Kim. She mentioned money and no one should vilify her for it. People made a decision that we had vilified her. No one bothered to say [to the rest of us], 'Are you disappointed by not making the movie?' Yes. 'Do you respect and support her choice to not do it?' Absolutely."
Kim also said that she was going through "a really tough time" back in 2004: "I was going through a divorce and my job of seven years was coming to an end. Then my dad was diagnosed with dementia. So I took a step back and returned to Canada, where my family is – that's the reason behind it. It wasn't all about the money."
In June, a Marie Claire report brought up rumours of a feud and contract disputes. SATC creator Darren Star said: "When you do a series for so many years, you can't fake [chemistry] completely."
Chris Albrecht, former CEO of HBO said: "Sarah was becoming more and more famous, and her salary increased beyond what was contractually committed, which is normal for hit shows. The other actresses wanted to keep up."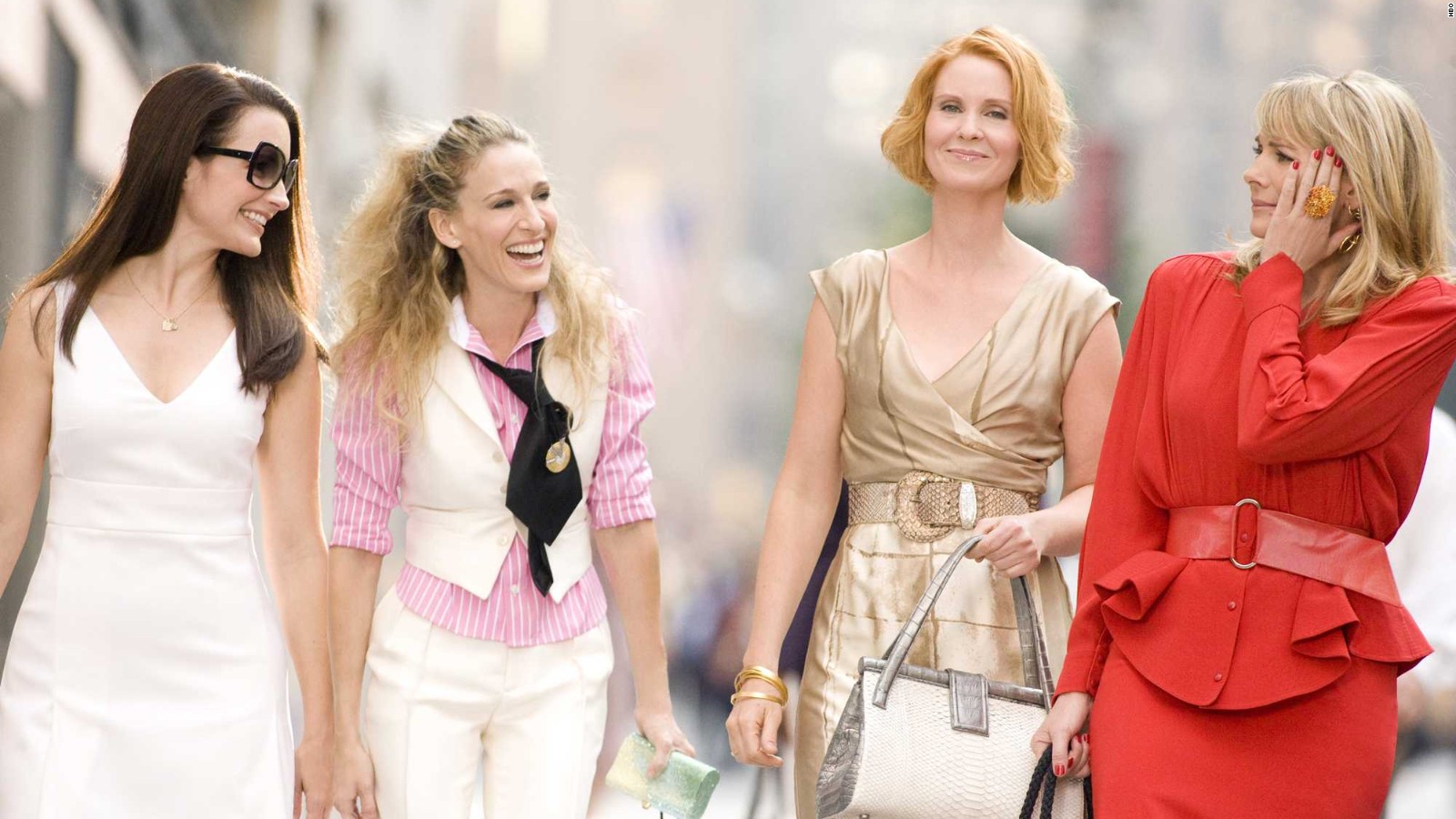 2009
In November, speaking to Elle, Sarah said: "I don't think anybody wants to believe that I love Kim. I adore her. I wouldn't have done the movie without her. Didn't and wouldn't."
2010
In January, when the alleged feud is brought up during an interview with the Daily Mail, Kim said: "I think Sarah was right: people don't want to believe that we get on. They have too much invested in the idea of two strong, successful women fighting with each other. It makes for juicy gossip and copy.
"The truth of us being friends and getting along and happily doing our jobs together is nowhere near as newsworthy. I think Sarah is fantastic… She and I are sick of this. It's exhausting talking about it, and a real bore. Next?"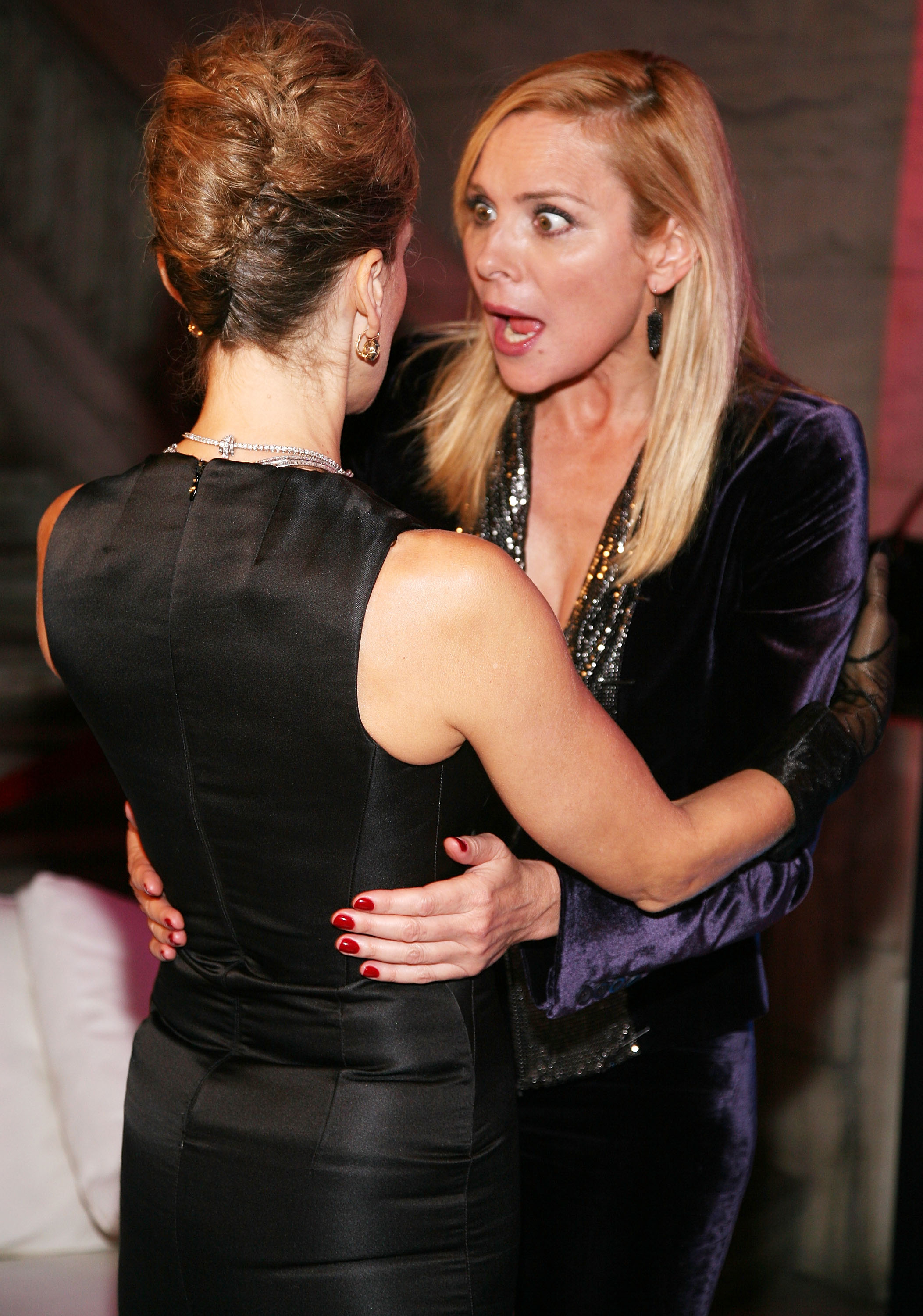 By May, before the release of Sex and the City 2, the four ladies address again spoke about the feud rumours with Marie Claire: "When you're on set, you're working 90-hour weeks, you're never home, you're exhausted," Sarah said. "There are times when all of us have been sensitive, and sometimes feelings get hurt. But I don't have any regrets about how I've treated people."
Kim said the cast's "chemistry" remained "very strong," saying that the feud rumours only existed because of the press. "Things just have to be explosive for no other reason than for people's imaginations."
2016
After a few years of radio silence, Kim told the Daily Record that it didn't feel right to do a third SATC movie. She also said that the cast's schedules would be tricky: "Everyone is doing their own thing and if it was going to happen, it would have happened by now. It would be a challenge to do a third instalment. It could be fun though. To say goodbye completely to Samantha would be pretty hard."
In August, Sarah wished Kim a happy 60th birthday on Instagram, writing: "Sending love and the very best for a perfectly marvellous, joyous, healthy and adventure filled birthday year. Your ol' pal, fellow mischief maker and "sister."
By September, Sarah told Time magazine how she had dealt with rumours of feuds: "It was always so heartbreaking to me that there was this narrative about Kim and myself because it just didn't reflect anything that happened on that set.
"They just didn't do it to the Sopranos guys. It was so strange to me and upsetting. I posted something on Kim's birthday and people were like 'Oh my God, I didn't know you liked her!' What? We were all at liberty to walk away at any time! But nobody asked those questions of shows with men. Isn't that interesting?"
Speaking to radio host Howard Stern in October, Sarah spoke again about the issue: "These were my sisters, these were people that I grew to love and admire… Was every day perfect? Were people always desperately, hopefully in love with each other? No, but this is a family of people who needed each other, relied upon each other, and loved each other.
"This sort of narrative, this ongoing catfight, it really used to upset. It was usually about bad behaviour on the set. I take very seriously, my reputation. I work really hard and I treat people well. I have a work ethic that's very meaningful to me and it's based on the affection I feel for the people I get to work with. To suggest that I'm behaving poorly or not treating somebody well... It would drive me bananas."
2017
In September, Sarah confirmed that there were no plans for a third SATC movie: "It's over… we're not doing it. I'm disappointed. We had this beautiful, funny, heartbreaking, joyful, very relatable script and story. It's not just disappointing that we don't' get to tell the story and have that experience, but more so for that audience that has been so vocal in wanting another movie."
Soon after, Kim went on Twitter to clear up tabloid rumours that the film was cancelled because she demanded that Warner Bros produce her other projects along with SATC 3.
Woke 2 a @MailOnline storm! The only 'DEMAND' I ever made was that I didn't want to do a 3rd film....& that was back in 2016

— Kim Cattrall (@KimCattrall) September 29, 2017
On the same day, co-star Willie Garson shared a cryptic tweet, while Kristin said goodbye to her character Charlotte on Instagram:
Disappointed for all crew holding on for negotiations to conclude for their jobs, and of course, for the fans. Leave it at that. #Truth

— Willie Garson (@WillieGarson) September 29, 2017
The next month, Kim spoke about the situation with Piers Morgan: "And now, now at this very moment it's quite extraordinary to get any kind of negative press about something that I've been saying for almost a year of 'no' that I'm demanding or a diva ... I never asked for any money, I never asked for any projects, to be thought of as some kind of diva is absolutely ridiculous."
On the topic of Sarah, she added: "This is really where I take to task the people from Sex And The City and specifically Sarah Jessica Parker in that I think she could have been nicer. I really think she could have been nicer."
She continued: "Another thing that's really disappointing is that nobody ever picks up the phone and tries to contact you and say, 'How you doing?' That would have been the way to handle it.
"And usually what happens in a healthy relationship is that someone, or a transaction for a job in my business, is that someone says, 'Are you available?' and you say 'Yes' and here's the job and you say 'Yes, but thank you very much but I'm sort of over here right now but thank you very much,' and that person turns to you, and they say 'That's great, good luck to you, I wish you the best.' That's not what happened here, this is, it feels like a toxic relationship."
2018
In January, Sarah appeared on Watch What Happens Live With Andy Cohen and said she was "just heartbroken" over what happened with Kim: "I mean, that whole week, you and I spoke about it endlessly, because I was just… I don't know, I found it very upsetting because that's not the way I recall our experience."
"It's sad. But I always think that what ties us together was this singular experience. It was a professional experience but it became personal because it was years and years of our lives. So I'm hoping that that eclipses anything that's been recently spoken. That many years spent doing something so special that people had a connection with is such a privilege."
Following the death of Kim's brother in February, Cynthia and Sarah reached out to Kim to send their condolences. However, Kim rejects Sarah's message and calls her a hypocrite.
The next week, Sarah downplayed any fight between her and Kim. She told People magazine: "I never talked about it, except [to say] that some of us were disappointed [about the movie not happening].
"But I never responded to the conversation Kim had with Piers Morgan, where she said things that were really hurtful about me. We had this experience and it was amazing, and nothing will ever be like it. We had a connection with an audience, and we had a connection with the city and with this crew, and we got to tell these crazy stories with each other."
She added: "So I don't want to mess with that. I couldn't imagine anyone else playing that part. So there was no fight; it was completely fabricated, because I actually never responded. And I won't, because she needed to say what she needed to say, and that is her privilege."