21 celebrity couples who have actually stayed together for years
15 September 2018, 15:01 | Updated: 16 September 2018, 20:48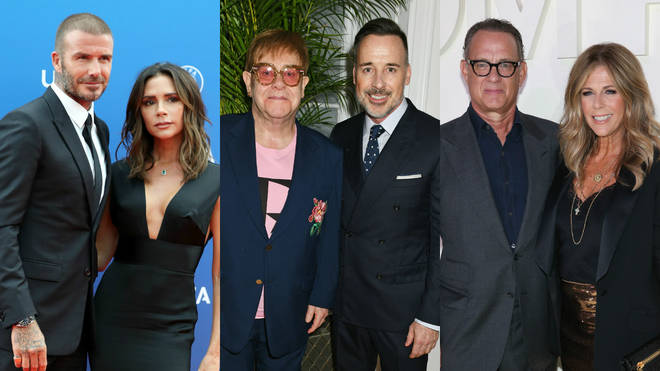 It's fair to say that most celebrity couples sadly don't last too long.
Some high-profile marriages appear to last less time than it takes to watch an episode of Don't Tell the Bride.
But there are a few celebrity couples who have stood the test of time and prove that real love does exist, even with the eyes of the world upon them.
Here are some of our favourite long-lasting famous couples...
The Queen and Prince Philip (since 1946)

Picture: PA

Ultimate relationship goals have to go the literal King and Queen of romance.

Queen Elizabeth II first met her future husband, Prince Philip of Greece and Denmark, in 1934 and 1937. After another meeting at the Royal Naval College in Dartmouth in 1939, Elizabeth – despite only being 13 years old – said she fell in love with Philip, and they began to exchange letters.

She was 21 when their engagement was officially announced on in July 1947, and they married in November.

Michael and Shakira Caine (since 1972)

Picture: PA

After seeing Shakira in a British TV advert for Maxwell House coffee in 1971, Michael Caine became obsessed with finding the woman he considered to be "the most beautiful... he had ever seen."

The couple were married in Las Vegas on in early 1973, and have one daughter, Natasha.

Sting and Trudie Styler (since 1982)

Picture: PA

In 1982, after the birth of Sting's second child, he separated from first wife Frances Tomelty and began living with actress and film producer Trudie Styler.

The couple married 1992, and they have four children together.

Martin Kemp and Shirlie Holliman (since 1982)

Aged 20, singer and dancer Shirlie Holliman met Spandau Ballet bassist Martin Kemp, through mutual friend George Michael.

The pair married in St Lucia in 1988, and went on to have two children: daughter Harley Moon Kemp and son Roman Kemp.

Richard Madeley and Judy Finnigan (since 1982)

Picture: PA

TV icons Richard and Judy met in 1982 when they worked on separate programmes for Granada TV, though they were both married to other people at the time.

They later married in 1986, and have two children together. After hosting This Morning together from 1986 to 2001, they also had their own self-titled show for eight years.

Goldie Hawn and Kurt Russell (since 1983)

Picture: PA

Hawn and Russell began dating on Valentine's Day, 1983.

They first met while filming The One and Only, Genuine, Original Family Band in 1966, but became involved after re-connecting on the set of Swing Shift. They have a son together, actor Wyatt Russell.

Tom Hanks and Rita Wilson (since 1985)

Picture: PA

Hanks first met actress Rita Wilson on the set of TV comedy Bosom Buddies, and were reunited in 1985 on the set of Volunteers.

The couple married in 1988, and they have two sons.

Kevin Kline and Phoebe Cates (since 1985)

Picture: PA

Actor Kevin Kline met actress Phoebe Cates in 1983, and they began dating in 1985 and married in 1989.

They have two children, Owen and Greta, who fronts the band Frankie Cosmos.

Kevin Bacon and Kyra Sedgwick (since 1987)

Kevin Bacon met fellow actor Kyra Sedgwick on the set of a TV movie in 1987, and married a year later.

They have two kids together and have starred opposite each other in a couples of TV and film projects.

Jamie and Jools Oliver (since 1992)

TV chef Jamie started dating childhood sweetheart when they both just 17.

The couple married in summer 2000, and they have five children: Poppy Honey Rosie, Daisy Boo Pamela, Petal Blossom Rainbow, Buddy Bear Maurice and River Rocket Blue Dallas.

Gordon and Tana Ramsay (since 1992)

Gordon first met his future wife when she was 18 and engaged to a friend of his. Awkward.

They married four years later, and they have four children together.

Elton John and David Furnish (since 1993)

Picture: PA

In 1993, Elton began a relationship with filmmaker David Furnish. In December 2005, the couple were amongst the first in the UK to have a civil partnership.

After gay marriage became legal in England in March 2014, they married in Windsor. They have two sons together.

Ted Danson and Mary Steenburgen (since 1993)

Picture: PA

In October 1995, Cheers actor Danson married actress Mary Steenburgen, whom he met on the set of the movie Pontiac Moon in 1993.

Danson also became the stepfather to Steenburgen's children, Lilly and Charlie, from her previous marriage to actor Malcolm McDowell.

Gary and Dawn Barlow (since 1995)

Take That's Gary Barlow married Dawn Andrews, who was previously a dancer on Take That's 1995 Nobody Else Tour.

They have three children together: Daniel (born 2000), Emily (born 2002), and Daisy (born 2009).

Hugh Jackman and Deborra-Lee Furness (since 1995)

Actor Hugh Jackman met Australian actress Deborra-Lee Furness, who is 13 years his senior, on the set of Australian show Correlli in 1995, and they married a year later.

The couple have since adopted two children: Oscar and Ava.

Faith Hill and Tim McGraw (since 1996)

In spring 1996, Faith Hill began a tour with fellow country singer Tim McGraw. At the time, Hill had recently become engaged, and McGraw had recently broken an engagement. The pair were quickly attracted to each other and began an affair.

After discovering that Hill was pregnant with their first child, the couple married in October 1996. The couple have three daughters together, and have said they aim to never be apart for more than three consecutive days.

David and Victoria Beckham (since 1997)

David started dating Spice Girl Victoria Adams in 1997, after she went to a Manchester United match.

Soon dubbed 'Posh and Becks', they married in 1999 and have had four children together.

Enrique Iglesias and Anna Kournikova (since 2001)

In late 2001, singer Enrique started a relationship with Russian tennis player Anna Kournikova.

Despite apparently splitting in 2013, they later reconciled, and they welcomed twins Nicholas and Lucy in late 2017.

Sarah Michelle Gellar and Freddie Prinze Jr (since 2000)

Sarah Michelle Gellar and Freddie Prinze Jr visit Disneyland with daughter Charlotte.

Picture: Getty

Buffy star met husband Freddie Prinze Jr while they were filming the 1997 teen horror film I Know What You Did Last Summer, but they didn't start dating until 2000.

They were engaged in 2001 and married in Mexico a year later. They have two children together.

Robbie Williams and Ayda Field (since 2006)

Robbie Williams started dating US actress Ayda Field in 2006, and they married at his Los Angeles home in 2010.

They have since had three children together, and they currently star as judges in The X Factor.

John Legend and Chrissy Teigen (since 2007)

Picture: PA

John met model Chrissy in 2007, when she starred in the music video for his song 'Stereo'.

They became engaged in December 2011, and were married two years later in Como, Italy. They now have two children together.