Playlist: 11 running songs to keep you going at the gym
16 April 2018, 17:27 | Updated: 24 June 2018, 00:38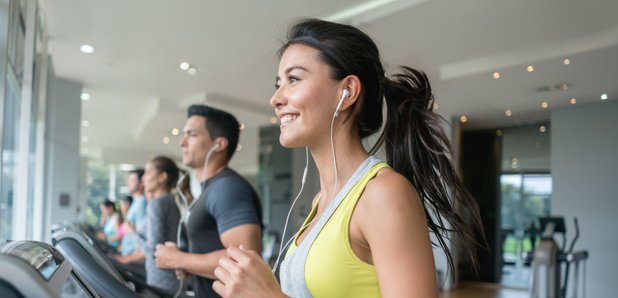 Whether you're training for the London Marathon or attempting your first jog in a decade, it's all about what tunes you listen to while doing it.
To help you out, we've put together the perfect running hour-long playlist to make the gym that little bit more enjoyable.
1. Fleetwood Mac - 'The Chain'
A perfect one to start with it, as it starts slow and builds up to get you in the right jogging zone. Before you know it, you'll be feeling like you're in the final bend at the F1 and going like the clappers.
2. Kenny Loggins - 'Footloose'
Run as if you'd just been told that you and the rest of your town were no longer able to dance ever again back in the '80s.
3. Bonnie Tyler - 'Holding Out for a Hero'
The ultimate 'montage of me getting into peak shape' song. Bonnie's fierce vocals will give you the power spark you needed. Note: we accidentally put two songs from Footloose together but now we're sticking to it.
4. Elton John - 'I'm Still Standing'
For when you think you're about to be too knackered to continue, Elton will get you believing once again. Yeah, yeah, yeah!
5. Rod Stewart - 'Young Turks'
Now that you're into the swing of it, Rod will keep you going with this jaunty '80s tune about rebellious youth.
6. Elvis Presley - 'A Little Less Conversation'
Short but sweet, this classic will make you feel as if you're running all the way to Las Vegas and back again.
7. Michael Jackson - 'Beat It'
Another 'I'm flagging so shout at me' song, MJ will remind you what's at stake if you don't keep pushing. Well, technically nothing's at stake, but think of the calories lost!
8. The Knack - 'My Sharona'
That drum beat and guitar riff alone is enough to keep you going, surely? And if you're name is Sharona, then bonus!
9. Bryan Adams - 'Run To You'
The clue's in the title. This will make you feel like the ending is in sight as you chase the person of your dreams. (Not in a creepy way).
10. Take That - 'The Flood'
Taking things down a notch now, but still epic. One final push!
11. ELO - 'Mr Blue Sky'
Ending with an almighty joyous and gigantic climax, when you hear that final orchestral breakdown you'll be darned chuffed with yourself. Congratulations!