6 amazing shower and bath gadgets to totally transform your life
20 September 2018, 16:50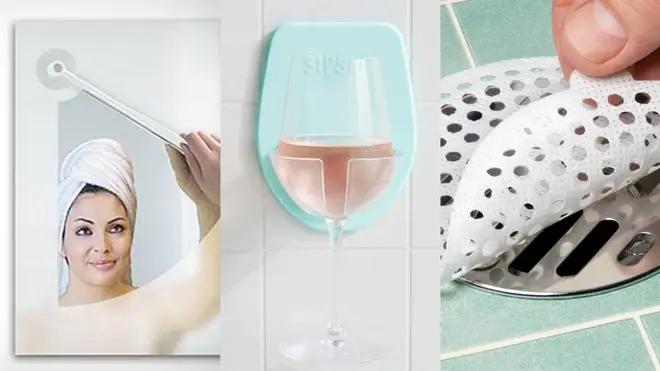 Whether you prefer long soothing baths or quickfire showers, you're probably a creature of habit in terms of your bathroom routine.
But there are some truly amazing gadgets and hacks that will totally improve your whole bathing experience.
Here are some of the best ideas and items out there:
Sip wine in the bath

Picture: Urban Outfitters

Is there anything more decadent than enjoying a glass of wine while soaking in the bath?

Urban Outfitters now have a handy new device that means you can now do just that without any spillages. The Sipski Shower Wine Glass Holder costs $15 from its US online store. Though, we'd recommend using plastic wine glasses!

Get a bath tray

Picture: Etsy

If you've never tried a bath tray, you're missing out.

These fancy and easy-to-use trays allow you to enjoy a book, watch TV on your tablet, have a cup of tea and more while laying in the bath. And this one only costs just over £20.

Stop hair from clogging up the drain

Picture: Fancy

Always the worst thing about baths and showers.

But trapped hair down the plug can be a thing of the past if you get some disposable hair traps.

You can get a set of 20 for under £20 online via Fancy, which is far better than having to call a plumber or worse: unclog it yourself.

No ironing required

Picture: Let How

This tip alone might change your life forever.

Did you know that if you hang your clothes in your bathroom, the steam from your shower will get rid of most of the wrinkles, so you won't have to iron them!

Though, try not to get them wet from the shower itself...

Get rid of your old toilet brush

The fancy Loogun device is a modern upgrade of the toilet brush.

It squirts water down the bowl, allowing it to be far more hygienic and gets the job done a lot quicker.

Install some mirror wipers

Picture: Dewa Design Outlet Store

Can't see a thing because your mirror has fogged up after a shower?

Get this handy windscreen wiper for your bathroom via the Dewa Design Outlet Store.